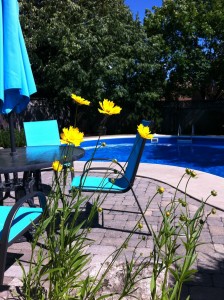 Summer has barely arrived, weather-wise, so how is it possible 2017 is already halfway through? Pause a moment to enjoy the pool, along with a look back at the 10 most-viewed blog posts so far this year:
1. "Eyes and ears still key in the digital age" summarizes a panel discussion of IABC communication leaders. They agreed that old-school listening and face-to-face communication are as important as ever, even in the digital age.
2. "SEO tips: Feed the beast to land on page one" gives on- and off-site strategies for search engine optimization, shared at a presentation to a group of entrepreneurs.
3. I hit the milestone of 10 years of blogging in January, so of course it was time for a blog post. In it, I share some of the current thinking about the value of blogs.
4. If you need to cram as much of an interesting interview as possible into a small number of words, the advice in this post — "Cut! 11 ways to meet a stingy word count" — might help.
5. A conversation about the best thing that's ever happened prompted this reflection on the best things about having my own business, and offered encouragement and advice to others contemplating the leap.
6. A chance comment on Twitter inspired some research into ways to spur your creativity, including a whack on the side of the head. (Not literally.)
7. Sparked by a colleague's lament about the use of "myriad," this post lists my most-hated jargon and suggests better alternatives. Plus, I got to use a photo of a black lab looking rather disapproving.
8. The internet roasted United Airlines for using the word "re-accommodate" instead of "forcibly removed." In "Weasel words still in the spotlight," I look at some of the other corporate euphemisms for unpleasant actions.
9. If you haven't found much value in Twitter, I have a three-step assignment for you in this post, along with some links to other helpful posts.
10. Words like on fleek, Dad bod and listicle make the Lake Superior State University's list of words that should be banished for misuse, overuse and general uselessness.
As always, I appreciate you stopping by. Enjoy the rest of the summer!