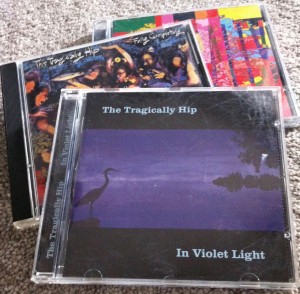 Like many Canadians, I was dismayed to hear of the death this week of Gord Downie, just 53, quirky lead singer of Canada's Tragically Hip. His diagnosis with an incurable brain tumour last year made the ending inevitable, but it still came as a shock.
Like many musicians, Gord (if I may be so familiar) had a way with words.
His songs included many references to our country – from the prairies to Atlantic Canada, with many stops in between, including Toronto. Great tunes often hid references to history and headlines, most recently drawing attention to the death of 12-year old Chanie Wenjack, an Ojibwa boy who died running away from a residential school.
Gord played with words and loved to use imagery and alliteration. Here are some of my favourite lyrics:
"Pale as a lightbulb / hanging on a wire" (New Orleans is Sinking)
"I feel I've stepped out of the wilderness / All squint-eyed and confused" (Boots or Hearts)
"Driving down a corduroy road / Weeds standing shoulder high" (At the Hundredth Meridian)
"It was in Bobcaygeon / where I saw the constellations / reveal themselves one star at a time (Bobcaygeon)
"I ponder the endlessness of the stars" (Fully Completely)
"Two fifty for a highball / and a buck and a half for a beer…"
"Two fifty for a decade / and a buck and a half for a year…"
"Two fifty for an eyeball / and a buck and a half for an ear" (Little Bones)
"Musical chairs, double dares, memorized stairs / Shooting off flares, springtime hares, broken-down mares" (Twist My Arm)
On the broadcast of the last date of the Tragically Hip's farewell tour, you could see that the band and fans alike knew this was it. As he sang, "No dress rehearsal, this is our life" (Ahead by a Century).
CTV created a documentary of that last tour, called Long Time Running (lyrics from the song of the same name).