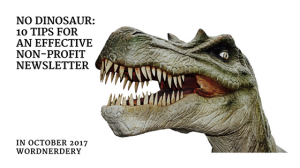 Email newsletters are one of the most effective ways non-profit organizations can stay in touch with supporters, and an "effective channel to send prospects to your fundraising page." So says John Haydon, a digital marketing expert who helps non-profits and charities with marketing and fundraising.
Not according to a blogger I came across this week. She dismissed newsletters as "dinosaurs," calling them "all over the place" and "replete with…self-promotional stuff." She said non-profits should forget about newsletters, and concentrate on blogging instead.
It's true that regular blog posts can help your company rank higher in search results, establish you as a thought leader and be a place to spark a conversation. But how are you supposed to make sure people learn about and read your blog? Email or an email newsletter, perhaps.
Like John Haydon, I think e-newsletters are a terrific option for non-profits. In my October newsletter, I list 10 tips to make sure they are effective, including these:
Show how your donor is making a difference. As Haydon says, "Donors don't want to give money to nonprofits…They want to change the world."
Segment your mailing list based on the subscriber's interest or activity, such as first-time donors or regular supporters.
Don't make asking for money the only reason a donor hears from you. Share good news and success stories. Build a relationship.
Read all 10 tips in the October newsletter. And don't underestimate the power of your e-newsletter in supporting your goals!
Wordnerdery is a quick read about words, effective/expressive writing, newsletters and more. Are you a subscriber yet? If yes, thanks for reading! If not, you can sign up right now. In keeping with Canada's anti-spam laws, you can easily unsubscribe any time.