Gini Dietrich knows about the highs and lows of small business, and persisting through them.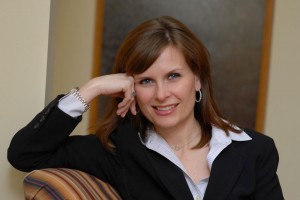 During a recent webinar, the founder and CEO of PR firm Arment Dietrich walked members of IABC/Toronto's Professional Independent Communicators through the story of her business, which went from winning awards and achieving 63% growth in 2007, to successive years of shrinking business. By 2011, the firm was bringing in less than it had during its first year of operation.
In 2011 and 2012, Gini decided to turn to digital and social media to fill the firm's pipeline of business leads.
She began building relationships through Twitter, following and connecting with people who had similar interests to her existing clients. She revamped her presence on Facebook and starting testing things on her blog. She launched a newsletter. She began speaking to local and national groups, led webinars and wrote articles for trade and business publications. She co-authored Marketing in the Round with Geoff Livingston.
The book gave Gini more credibility and led to 63 speaking engagements. Relationships built through Twitter started to drive revenue. Website visitors increased. Analytics showed that one article alone led directly to 40 webinar sales. The business experienced 150% growth, and most important, started to save money.
"Sixty per cent of our new business came from new activities like speaking and writing the book," Gini said.
"The point is that the old way of doing things no longer works," she added. "Everything has been thrown on its head in the last 10 years, and we have to evolve and introduce new strategies and tactics for ourselves and our clients."
Time to diversify
Experts recommend diversifying your business with seven different revenue streams. Gini's firm took seven years to get six:
Client service (now about 61% of the business)
Books (7%) – Marketing in the Round, Spin Sucks, The Communicators Playbook
Online courses (21%)
Speaking (11%)
Mastermind group
PR Dream Team community
She plans to add two more streams this year: a podcast and a paid online community. (An earlier one called SpinSucks Pro no longer exists. "It was ahead of its time," Gini said.)
Although solo communicators may be guilty of relying on referrals for new business, we also have a "gigantic opportunity" in front of us to do more.
"I challenge you to go beyond client service," Gini said. "What is one extra revenue stream you can add? If you've always wanted to write a book, it's never been easier. You can do an online course where you teach something. You can do a podcast – women represent less than 1% of podcasters. Get out there, you have no competition."
Once you've added one new stream, add another the next year. By 2024, you'll have your seven streams.
"Don't be put off by thinking, 'I'm not an expert, what could I possibly teach?' or 'I don't have time,'" Gini added. "Each of us has something to offer that's different."
And don't forget the value of passive income. Gini related the story of a colleague who made money while they were skiing, simply because people had to pay to schedule an appointment with her.
"There's nothing better than doing what you love to do – ski or lie on the beach or drink wine or golf – and opening your email to see you made money."
Are you up for the challenge?
Gini's recommended reading:
What Would Google Do – Jeff Jarvis
The Conversion Code – Chris Smith
Built to Sell – John Warrillow
Traction: Get a Grip on Your Business – Gino Wickman
Content Chemistry – Andy Crestodina