Are you a Fitbit fan? I am. I've been wearing the step tracker since December 2014, and it encourages me to look for reasons to take a few extra steps, like parking further away from a store or the train station, or taking the long way home after a short walk with Mom.
Fitbit's "Who we are" page claims "We believe you're more likely to reach your goals if you're encouraged to have fun, smile, and feel empowered along the way." They do a good job of that. They use fun cartoons for badges that spur users on to increased steps, and I've gone from the Boat Shoe (5,000 steps in a day) to High Tops (20,000 steps in a day), and the Marathon (26 lifetime miles) to Great Wall (5,500 miles).
Oh, but their all-caps, 118-word, one-sentence Limitation of Liability statement. This came to light during the recent flurry of emails resulting from General Data Protection Regulation (GDPR) compliance in Europe. Here it is, with the Hemingway app showing the entire piece is a danger zone: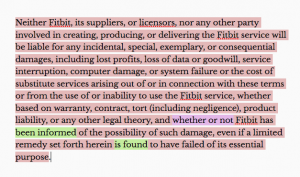 Check out my June newsletter, Wordnerdery, to see how I rewrote this mouthful of a statement and how you can avoid inflicting this kind of wording on your readers.
Wordnerdery is a quick read about words, effective/expressive writing, newsletters and more. Are you a subscriber yet? If yes, thanks for reading! If not, you can sign up right now. In keeping with Canada's anti-spam laws, you can easily unsubscribe any time.