Are you a Fitbit fan? I am. I've been wearing the step tracker since December 2014, and it encourages me to look for reasons to take a few extra steps, like parking further away from a store or the train station, or taking the long way home after a short walk with Mom.
Fitbit's "Who we are" page claims "We believe you're more likely to reach your goals if you're encouraged to have fun, smile, and feel empowered along the way." They do a good job of that. They use fun cartoons for badges that spur users on to increased steps, and I've gone from the Boat Shoe (5,000 steps in a day) to High Tops (20,000 steps in a day), and the Marathon (26 lifetime miles) to Great Wall (5,500 miles).
Oh, but their all-caps, 118-word, one-sentence Limitation of Liability statement. This came to light during the recent flurry of emails resulting from General Data Protection Regulation (GDPR) compliance in Europe. Here it is, with the Hemingway app showing the entire piece is a danger zone: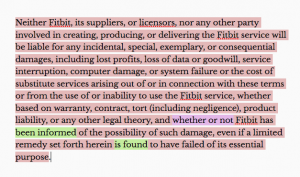 I ran the piece through a readability test tool, which said, "Your text has an average grade level of about 42. Ooh, that's probably a bit too complicated. Have you thought about using smaller words and shorter sentences?" The Hemingway app rated it "Poor. Post-graduate reading level" and the one sentence is very hard to read.
I took steps (pun intended) to rewrite the statement. I broke up the lengthy sentence, taking a guess at the shorter and simpler words that might be appropriate, and using bullets to split out the very many reasons Fitbit Will Not Be Liable: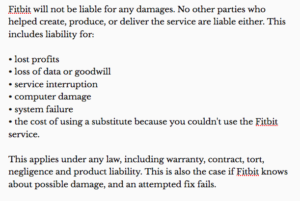 My rewrite brought the statement down about 25% to 81 words, and no sentences are hard or very hard to read. The Readability Test Tool said, "Your text has an average grade level of about 11. It should be easily understood by 16 to 17 year olds." The Hemingway app pronounced it "Good" and gave it a reading level of Grade 6.
Lawyers seem to feel they must account for every possible situation, and cram them all into these statements. When customers or employees are the intended readers, however, you'd be kinder to produce something written in simple, plain language. If necessary, add a disclaimer at the bottom directing other lawyers (surely they are the only ones who care) to the full, wordy, complicated legal version tucked away elsewhere.
Have you seen a "before" piece of writing that begs for an "after"? Do share! I'm always looking for examples.
This Before & After originally appeared in my newsletter, Wordnerdery.
Wordnerdery is a quick read about words, effective/expressive writing, newsletters and more. Are you a subscriber yet? If yes, thanks for reading! If not, you can sign up right now. In keeping with Canada's anti-spam laws, you can easily unsubscribe any time.