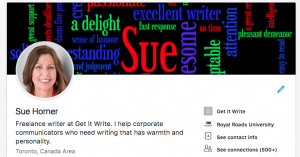 You may have left a job, or you're looking for a new job with a different focus. Maybe you retired but are still open for something new, even if you aren't actively looking.
It's time to update your LinkedIn profile.
I've been helping a friend do just that, and thought others might find the advice useful:
STEP 1: Go incognito
Before you do anything, turn off activity broadcasts while you are making changes. To do this, go to the top menu bar > [you] > Settings & Privacy > Privacy [centre tab] > Sharing profile edits > Change to NO.
STEP 2:  Personalize your URL to get rid of the numbers
The default adds a string of random numbers to your name. You want to look more polished (and be found before others with the same name and a bunch of numbers). Go to the top menu bar > [you] > View profile > Edit public profile & URL > Edit URL. Click on the pencil and get rid of the numbers. If another person already has your name, add one number like FirstnameLastname1 or include your middle name or initial.
STEP 3: Update your email address (if necessary)
Change your work address to your personal one. From the top menu bar > [you] > Settings & Privacy > Email addresses.
STEP 4: Choose your photo(s)
You should already have a professional-looking photo, which now appears on the left. Notice that the redesign in 2018 (see my heading here) makes the "cover" photo more prominent. You can leave the default, but why not choose something that reflects you, your city, your interests or something else you want to highlight? I've turned mine into a "word cloud" taken from client testimonials about my work. I've seen photos of city skylines, someone speaking to a group of people, a book cover, nature, a "call to action" – be creative!
STEP 5: Rewrite your headline (currently your job title)
Figure out how you want to promote yourself. What might you want to be known for or hired for? What are you good at? Where's your passion? What summarizes your expertise? Think about where you want to go next, not necessarily what has defined you in the past.
Don't be too generic, like "Experienced Leader." Include something specific to what you do, like Healthcare Executive or Technical Writer or Communications Executive with experience in [fill in the blank] . Do a search for your choice and see what other profiles come up. Check them out.
Both here and in the summary, be careful of the words people have used so often they are meaningless (see here for alternates):
Experienced / skilled / expert / specialized
Leadership
Passionate / motivated
Creative
Strategic
Successful
STEP 6: Update your summary
Who are you, what do you do, and how do you help your company or your clients? Think about keywords people would search for. Talk about why you like what you do or the career path that led you to where you are today. What makes you an outstanding candidate for your next career move? Why would someone hire you? What personal attributes do you want to highlight?
Update the description of your most recent role:
Answer questions that put some specifics behind what you do, like:
Can you quantify your results with percentage or dollar improvements?
How have you inspired and mentored people?
What have your teams achieved under your leadership?
Have you come up with a creative fix that saved $X per year or generated an X% increase in sales?
What specific projects did you lead? What were the results?
What awards have you and/or your teams won?
Add profile sections for other significant work roles, education and volunteer work using Profile > Add profile section. Include relevant education – the course or program and institution – even if you don't have a degree. You can always move this section lower down on the page.
From your profile page, you can also click on "Let recruiters know you're open" and specify the types of opportunities that interest you.
If you don't want the people who view your profile to be directed to your competitors, turn off "Viewers of this profile also viewed." From the top menu bar > you > Settings & Privacy > centre tab Privacy > "Viewers of this profile also viewed" > change to NO.
STEP 7: Once you've updated your profile, get out there
7 (a). Connect with more people
Every day or so, go to top menu bar > My Network > People you may know; scroll down and find a couple of people you do know and want to connect to. Click on the person's photo > [goes to their profile] > click Connect > personalize the invite with where you know them/why you want to connect.
7 (b). Ask for recommendations/endorsements
Endorsements are a simple check against your list of skills. Before you ask, make sure you list the skills you want highlighted by going to your profile and scrolling down to Skills & endorsements > Add a new skill (at top right of section).
Recommendations are written comments on specific aspects of your work and/or personality. Are there people you can ask to recommend you for specific things that you want to be known for? Try a former boss for how well you built your sales team, or someone who reported to you about your skills as a leader and motivator, or a client for your reliability and responsiveness. Bonus: Sometimes people you ask to endorse you will write a full recommendation too.
7 (c). Give recommendations and/or endorsements
If you have worked closely with someone whose abilities you respect, view their profile and see if there are skills you can endorse with a click. If you can comment in more detail on their work, think about giving a full recommendation. They may return the favour, but don't do it for that reason.
What else would you recommend for getting a LinkedIn profile in shape during a job transition? Please share in the comments.
Related reading:
Fine-tune your LinkedIn profile to open doors
Advice when you want to start publishing on LinkedIn