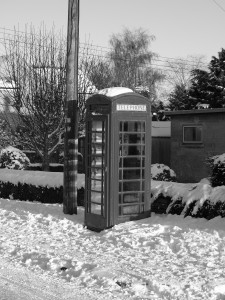 When I first went out on my own, I cold-called my way through a battered copy of The Canadian Writer's Market. Although the effort eventually resulted in some freelance writing work, the experience was painful, as I recently recounted.
The tactic is unlikely to lead to success these days. Who answers the phone any more?
Plus, there's a better, warmer way to build your business than cold-calling strangers. Copywriter and business-building coach Ed Gandia shared four core strategies with members of IABC/Toronto's Professional Independent Communicators (PIC):
1. DIRECT OUTREACH
Send people a direct offer to help or plant a seed for future connection, using:
(a) Warm email
"Think of warm email as cold calling by email without the yuck factor," Ed said. Ideally, a mutual connection has referred you or mentioned you to the prospect. Customize each message to your prospect, with a goal of starting a conversation or piquing their interest, not making a sale.
(b) Direct mail
If you can't use email because of anti-spam laws, snail mail a short "warm letter" of 125 words or less, a lead-generation letter offering a white paper or other bonus, or a postcard announcing a new service.
(c) Telephone
Follow up with past clients or professional contacts by telephone. Make sure you have already connected elsewhere, maybe through email or snail mail or on LinkedIn, and set up a lunch or coffee.
(d) Social media
Social media, particularly LinkedIn, is a way to humanize yourself and stay top of mind with your clients and professional network. Don't blast out generic messages; take the time to personalize and add your perspective.
2. REFERRALS
Work on cultivating referrals, realizing that most clients won't send work your way unless you ask. So, ask – when praised, at the end of blog posts and emails, in case studies, in newsletters. Say that much of your work comes from referrals, and you would appreciate knowing about others who might need your services.
3. NETWORKING
Adopt the mindset that you're building relationships, not trying to walk away with a sale. Focus your efforts, getting involved in no more than a handful of organizations. Choose ones where the members understand the value of your services and might hire you. Then don't just attend events; actively volunteer, which allows members to get to know you and see the quality of your work.
4. NURTURING
Prospects probably won't need your services at the exact minute you contact them, but staying in touch over time may mean you're the first person they think of when timing is right. Here's how:
(a) Build a library of content
Create your own articles, white papers and success stories. Send interesting articles, reports, stats and research, books (nobody sends them and nobody throws them away), news articles.
(b) Vary the media
Don't just send everything by email. Send an occasional snail mail, pick up the phone, leave voice mail.
(c) Pay attention to frequency
Ed usually connects every two months, and says between one and three months is about right.
(d) Use a tracking system
Start small with a simple spreadsheet that tracks prospect names, what you sent them and when.
From ideas to action plan
Ed advises picking one strategy to start with, like direct outreach, and commit to putting it into action this month. Commit to a second strategy next month.
"Keep your game plan so ridiculously simple you will do it every day," he said. "Ask yourself every morning: 'What one prospecting action will I commit to today?' Focus on effort and consistency, not results. Build the habit and the results will come."
Learn more about Ed at High-Income Business Writing and the International Freelancers Academy.
This recap of an IABC/Toronto Professional Independent Communicators meeting was originally published in PIC's e-newsletter, The Buzz. Image: BlueFlamingo on Pixabay.
And guess what, much of my work comes from referrals. 🙂  If you know of someone who could use my services, let me know!