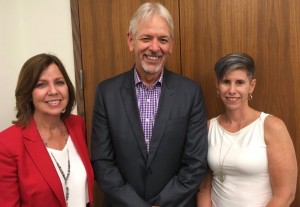 People are interested in launching their own businesses, but a little nervous about it, too. That's the not-so-surprising conclusion I took away from this week's panel discussion about starting an independent business.
We had a great turnout, lots of information from the panelists and a lively question-and-answer period at the end. A full report is in the Professional Independent Communicators (PIC)'s September newsletter, but here are the questions PIC asked us and what I said, would have said or would like to add:
WHAT LED YOU TO START YOUR OWN BUSINESS?
I've had my own business twice:
The first time, it built up after I moved to Toronto from Montreal. I did writing on the side while I searched for a full-time corporate communications job. By the time I had a job offer, my business was promising enough that I hesitated…but the "security" of that corporate offer won me over.
The second time was about 27 years ago when I left that full-time corporate comms job. It was a busy job in a tiny communications department. I had two small boys and a painfully long commute. Work/life balance; what's that? I thought about quitting for a year before I got up the nerve to do it. I was lucky enough to have the support of my husband – gainfully employed full-time – and my parents (especially Mom, who looked after my boys when I had to travel or go to a meeting). At first, we thought I might go back to the corporate world as the boys got older, but it was soon obvious going solo was my destiny.
DESCRIBE THE EARLY STAGES OF YOUR BUSINESS. WHERE DID YOU ESTABLISH YOUR BUSINESS? WHAT MARKET DID YOU FOCUS ON? WHAT KEY SERVICES DID YOU PROVIDE?
I launched my business from home, in the guest bedroom. I'm still in a spare room but there's no bed in it anymore, so I don't have to do a panicky cleanup when we have guests coming.
That first time I went out on my own, I was looking for agencies who might use a freelance writer. I spent a lot of time cold calling – took The Canadian Writer's Market and worked my way through agency listings, calling and asking if they used freelance writers. Although eventually I was getting some business, it was painful. So painful!
The second time, I focused on writing for corporate communicators who were in the same situation I used to be – small department, pressed for time and often unable to get to the writing.
My first client was my former employer, and I kept doing their employee newsletter and other writing until they hired my replacement. I worked for them off and on through a few different replacements and they kept using me for many years. Other work came through networking and relationships built over the years.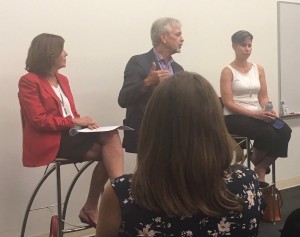 WHAT WERE SOME HURDLES IN BUILDING YOUR BUSINESS AND HOW DID YOU OVERCOME THEM?
As an introvert, I had to get over my natural shyness and get out and meet people. What helped:
Don't laugh, but wearing my red "power" jacket helped. Now that jacket has become my brand.
Networking. Working as a volunteer behind the scenes, I was often the person sending out information. People knew my name and I knew theirs, so it was easy to introduce myself. These days, I find a similar thing happens with Twitter; you "meet" online so it's already a warm connection rather than introducing yourself to a stranger.
I am also not necessarily the best at marketing myself in formal ways. Instead, I concentrate on:
Doing what I do, writing: for my own blog and newsletter, and for IABC and other associations. People can see my writing style, and even in volunteer situations, that has led to business.
Using social media to comment, connect, share interesting information and promote my own writing, which gives me visibility and name recognition. It does help!
The "feast or famine" aspect of business can also be a challenge, although I have grown to appreciate quieter moments; they don't usually last. I'm lucky that in my 27-plus years, I only had one significant slump, when oil prices tanked and one of my main clients was an oil company.
To avoid a slump in the first place, you need to diversify. Notice if one client takes up most of your time and if so, actively look for others. LinkedIn is one place to find potential clients; also ask your existing clients for other opportunities in different departments, or referrals to people they know.
If you're in a slump, let all your friends/colleagues/clients know you have time available. I've found they assume you are busy unless they hear otherwise.
DISCUSS SOME OF THE KEY OPPORTUNITIES THAT HELPED TO GROW YOUR BUSINESS.
Volunteering led to making connections that led to work.
Networking and collaborating with other professionals. I've both received from and given work to other writers and graphic designers, in particular.
Staying in touch with past clients. I'm grateful that as some of my clients have moved to other companies, they have brought me along with them.
HOW HAS YOUR MARKETING STRATEGY EVOLVED, FROM THE EARLY STAGES TO THE PRESENT TIME?
That first venture relied on cold-calling and I never do that anymore. (You'll have more success with warm leads – people who already have you on their radar in some way. See Ed Gandia's advice about nurturing warm leads.) Instead, I focus on building visibility and relationships. Now, all my business comes through:
relationships I've built
repeat business with past clients
people I worked for in one company who have moved on to another
being visible on LinkedIn and Twitter
networking
volunteering
WHAT ARE YOUR TOP THREE TIPS FOR FELLOW INDEPENDENT COMMUNICATORS?
#1. Get to know people in your IABC network. Find people who work in the same field or specialty as you, or people who live in your area and might be willing to meet with you for a coffee. Don't ask for work, of course; just work on building your network. (Why didn't I do that when I moved here? I don't know.)
#2. Volunteer. People get to know what you do, your work style and how reliable you are. You can showcase your talents or get experience in a new skill. You might also end up with something for your portfolio and a glowing recommendation. Or, you might simply be making a difference in an area important to you.
#3. You don't need cold calling. Warm leads are much better and more successful. Think about it: would you hire a duct cleaning company that randomly phoned you, or the one who did a fabulous job at your friend's house?
Bonus tip #4. Perfect is the enemy of done. Don't wait for the stars to align and conditions to be just right, or you'll never get anything done. I dragged my feet over launching my website, agonizing over the words. I'm a writer, the words had to be perfect, right? Of course not. Put something out in the world, and work at improving it as you go.
Thanks to everyone who came out to the session, to our moderator Sharon McMillan, and to my fellow panelists, Sharon Ashaiek and Eric Bergman, ABC! We didn't have time to do more than scratch the surface of this topic, so let me know in the comments or email me if you have any questions.
Top photo by Bill Smith; lower photo by Amy Lazar.
Resources:
Check elsewhere on my blog, tagged "The Independent Life," including:
– How to take the leap to the independent life
– Thinking about hanging out your shingle? Start here
– How to warm up to cold calling
– In a slump? Here's how to dig out
– The ultimate list of pricing resources for independents
Download PIC's e-book, also called The Independent Life
Learn more about positioning yourself as a "likeable expert" from Michael Katz
Get advice about earning more and targeting clients from Ed Gandia