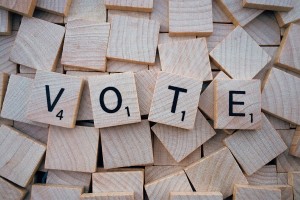 Hot on the heels of this month's midterm elections in the United States (no, I'm not going there) is voting of a different sort. I'm talking about choosing the Word of the Year.
The big names like the Oxford English Dictionary and Merriam-Webster wait until late December, even January, to make their choice. This makes sense, when you consider that the Word of the Year reflects those that are often suddenly in popular use during the year. With a month and a half to go, a dark horse could still appear.
But Collins English Dictionary has already announced its 2018 Word of the Year: single-use. The term has gained traction with a global movement to avoid or reduce the use of disposable products like plastic bags, bottles and straws.
The shortlist included:
Floss: that awkward dance where you twist your hips one way and swing your arms the other, fists closed, made popular by the video game Fortnite (here's an animated illustration). You've probably seen it but had no idea it had a name.
Gaslight: to try to manipulate someone by continually presenting false information until they doubt their sanity.
Plogging: combining jogging with picking up litter. (When Mom and I walk, we often pick up litter. Would that be plawking?)
I'm hoping for some more appealing Words of the Year from the other guys. What would you vote for?
 Image: Wokandapix and Pixabay.