This last month of the year – when many of us are getting ready for family gatherings, yet others lose or are estranged from loved ones – maybe you are reminded, as I am, that life is short.
My own preparations for Christmas always bring to mind a tradition that lasted a dozen years. It began when my best friend and her husband separated, and Dale left everything familiar in Montreal to make a fresh start. She moved across the country to Vancouver in the fall with her daughters, 3 and 6, and a son, 8.
A few weeks before that first Christmas in a new city, I left my own two young boys in the care of their Dad, Grandma and Grandpa and travelled to Vancouver for a long weekend of what we called Christmas elfery.
Dale and I bought a Christmas tree together. We put up lights. We made shortbread. We played Christmas music. We went Christmas shopping and wrapped presents. We did other festive things, like attending concerts and watching the annual "carol ships" parade of lighted boats (usually in the rain; it was Vancouver). We made meals together, ate and talked and laughed. Dale was as close as a sister, and her children like my own nieces and nephew.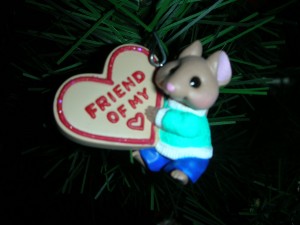 Sometimes, between the demands of work and my own family and the season, it seemed impossible to even think of getting away. But I did, for 11 more years. That yearly trip became a highlight of my own Christmases, and Dale's now-grown children tell me it was one of theirs, too.
Just weeks after my last visit, Dale died.
Two years earlier, she had been diagnosed with multiple myeloma, a cancer that starts in blood plasma cells. Doctors had given her two years to live, and when I asked about that, she said, "Well, it's been two years and I'm still here."
She wasn't ready to go. None of us were ready for her to go. But that's the thing; you rarely know when your time is up. You're seldom truly prepared.
I have blogged before about former Coca-Cola executive Bryan Dyson and his touching words in a famous speech at Georgia Tech's commencement in 1996:
"Imagine life as a game in which you are juggling some five balls in the air… work, family, health, friends and spirit…You will soon understand that work is a rubber ball. If you drop it, it will bounce back. But the other four balls – family, health, friends and spirit – are made of glass. If you drop one of these, it will be irrevocably scuffed, marked, nicked, damaged or even shattered. It will never be the same. You must understand that and strive for balance in your life."
His advice also included, "Don't take for granted the things closest to your heart."
I can't tell you how grateful I am to have made that trip to see my friend every Christmas. The work was there when I returned and it got done. And my family, health, friends and especially spirit were the better for my choice.
As the year winds down, take stock of your own situation. Are you letting work push your life out of balance? Are you scuffing any of those glass balls? Are you taking anyone for granted or holding onto an old grudge? You just never know how short life really is. Don't waste it.
Post updated December 9, 2022. This Christmas tale first appeared in the December 2018 issue of my newsletter. Wordnerdery is a quick read about words, effective/expressive writing, newsletters and more, including the occasional reminder that life is short. Are you a subscriber yet? If yes, thanks for reading! If not, you can sign up right now. In keeping with Canada's anti-spam laws and just plain good manners, you can easily unsubscribe any time.