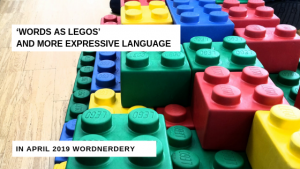 Do you want to explain something, clear up confusion, make a point or reflect or spark emotion?
Reach for what I call expressive language (AKA figurative writing), which is a memorable way of showing rather than telling.
For example, Oxford Dictionaries describes words as being like Legos: "infinitely combinable parts that can make whatever word you need when composing your latest love sonnet or insane rant."
My newsletter, Wordnerdery, pulls out more examples of expressive language found in newspapers, books, magazines and online postings. (I mean, how great are these? "Biological Spanx." "As barren as an abandoned home." Skin translucent "like the pale tissue overlay on a wedding invitation.") Read more in the April issue.
Have you noticed any striking use of expressive language? Please share in the comments. I'm always looking for examples.
Wordnerdery is a quick read about words, effective/expressive writing, newsletters and more. Are you a subscriber yet? If yes, thanks for reading! If not, you can sign up right now. In keeping with Canada's anti-spam laws and just plain good manners, you can easily unsubscribe any time.