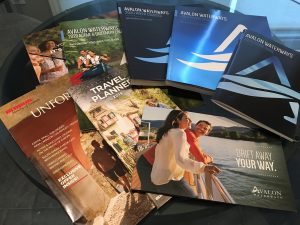 My husband and I have never taken a cruise, but somehow we're on a mailing list that leads to regular promotions for ocean and river adventures. We also get frequent invitations to events where we can get more details.
Finally, we accepted one, and set off to learn more about Avalon Waterways river cruises.
Cruise newbies and veterans alike lined up at the check-in table, picking up a bag of promotional material before grabbing coffee and a chocolate chunk cookie. (Note: Print is not dead. At least, not for companies targeting baby boomers.)
While the promotional material features happy couples of early- to mid-baby-boomer age (born in the 50s and 60s), the crowd skewed to the older end of the range. Friends and family who have cruised tell us that's the norm on board as well.
Forbes says that 92% of consumers want brands to make ads that feel like a story, and Avalon is on board with that, so to speak. All the Avalon promos have happy couples doing things in little mini-stories – gazing at the view from the ship, strolling cobblestone streets, pausing their bikes to admire a windmill, taking a cooking lesson amid gleaming stainless steel.
Forbes also says that using storytelling in marketing helps companies convey personality, strike a chord and promote their brand as a cut above its rivals. Avalon's on the same page with that, too.
Exhibit A was our Avalon host, Hector. He was enthusiastic about the charms of cruising with Avalon. He kept reinforcing the differences between the gigantic ocean cruises and more intimate river cruises by flinging his arms wide ("Ocean") or putting his hands closer together ("River").
Hector relayed story after story that highlighted the charms of a river cruise with Avalon, and how different it was than being on an ocean-going (arms flung wide) ship, or even on a rival river cruise:
The smaller size means "just two people ahead of you at the omelet station." Note the specific detail that lets you picture it.
Most views of the rooms show the most expensive Panorama Suites, with wall-to-wall windows that make the room feel like a balcony. In most, happy couples enjoy coffee or wine as they gaze happily at passing scenery. Can't you imagine yourself there?
But wait, unlike the competition, all rooms have windows. Even down on the less expensive lower levels, guests enjoy what Hector charmingly dubbed "the Swan Deck." The windows are high on the walls, so you often see swans and ducks swimming past, he said. You can imagine that, too.
Happy stories relayed how the Avalon ship makes it through (but competitors do not) when the waters are low, thanks to its reduced clearance requirement. Cross that worry off your list.
Waters really low? Still no problem, because Avalon is connected with vacation experts, hotels and transportation that includes bus tours, so they can easily arrange alternate accommodation if needed. Hector read a few glowing reviews where this happened.
The event definitely created a memorable brand story for Avalon cruises, reinforced in all the print material, videos and the website.
Hector admitted that all this awesomeness comes at a price, which he quickly reminded us was in Canadian dollars, detailed in brochures at the back. Plus, for attending, we all received a coupon worth $200 off our new booking.
Not gonna lie, it was tempting. After taking a closer look at prices (how much???), though, we decided maybe we aren't quite ready.
What about you – have you embraced the cruise life? Where do you go and for how long? And what do you think of Avalon's storytelling? Please share in the comments.