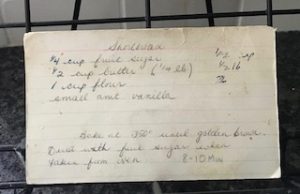 In my house, Christmas isn't Christmas without shortbread cookies, made with my mother's recipe.
Almost all of us have food traditions for family gatherings, especially during the holidays. Some of the food is expected, even demanded. Not all of the dishes are healthy, but my motto is "Everything in moderation – including moderation." Life is too darn short to deny yourself the pleasure of whatever it is, like shortbread, that sets your mouth watering. (In moderation.)
My smudged, handwritten recipe card has the bare bones of Mom's version of this delicious buttery cookie. There's little instruction beyond the time and temperature for baking. You have to know that the butter needs to be soft before you start. You have to know that mixing is a hands-on affair. And mostly you have to know that the original recipe isn't enough.

Learn more about the details that didn't make it onto the recipe card and the full instruction in my December newsletter. The shortbread story is a reminder to write with the reader in mind, and to overcome the "curse of knowledge" – where you assume others know what you know. But really, it's mostly a reminder that life is short.
If you make the cookies, do stop by and let me know how they turned out. Did you make the full pound of butter? Did I miss any other important instruction?
Related reading:
My "life is short" story from 2018, about making cookies with my bestie
My black lab, Jake, also taught me about living in the moment
Wordnerdery is a quick read about words, effective/expressive writing, newsletters and more. Are you a subscriber yet? If yes, thanks for reading! If not, you can sign up right now. In keeping with Canadian and U.S. anti-spam laws and just plain good manners, you can easily unsubscribe any time.