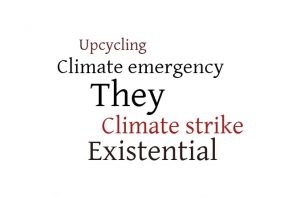 What topics caught the public's imagination this year? Which words drove you or your friends to the dictionary? (Asking your Mom doesn't count.)
We're starting to find out as dictionaries report the popularity of word searches over the year. The searches show which words took off in popular use and reflect important events, people and preoccupations.
Here are the words (and terms) of 2019 so far:
There will be more word choices in January, when the American Dialect Society votes for its choice among nominated words. The Global Language Monitor also reports in January; a front-runner so far is "woke," an "epiphany-like experience where one is awakened to the call of social justice."
Which words drove you to the dictionary, if any? Which would you nominate for word of the year?
Word cloud by Word It Out.
Related reading:
2017's words include complicit, dotard and fake news
My post in 2015 gives more detail on why we like/don't like new words