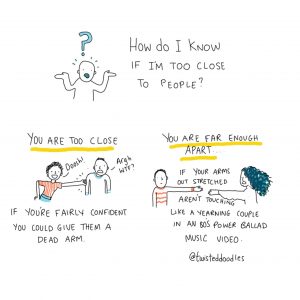 We're all seeing one particular number everywhere these days – two metres (six feet). That's how far we have to stay away from others to slow down the spread of COVID-19.
But how far is that, really? Everyone citing this number quickly realized people need a better feel for what that distance means to be able to stick to it.
The April issue of my newsletter, Wordnerdery, shares some excellent ways of putting two metres in context, including "the length of a hockey stick" and (for a laugh) the cartoon shown here, with permission of illustrator "Twisted Doodles." You'll also find some other examples of comparing numbers to something familiar, like the 50 x 50 pixel size of your LinkedIn profile pic as being "the size of your fingertip." (Andy Crestodina).
Read more in Wordnerdery, and please share your own examples of terrific explanations by replying to the newsletter, or in the comments below. Thank you!
Wordnerdery is a quick read about words, effective/expressive writing, newsletters and more. Are you a subscriber yet? If yes, thanks for reading! If not, you can sign up right now. In keeping with Canada's anti-spam laws and just plain good manners, you can easily unsubscribe any time.