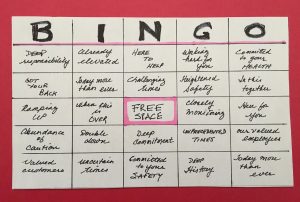 "We're here for you."
You've probably received that message from multiple sources, like your bank or your insurance company. Or maybe they said, "We've got your back." Or, "We're looking for every possible way to help you save money."

Did you roll your eyes and think, "I'll bet"?
Communicating is tricky during these "unprecedented times" (another COVID-19 cliché). But if a company is using those phrases I mentioned, it's meaningless unless they follow it up by actually doing something. You know, like waiving fees or postponing payments or giving out money.
And it would be nice if the promised "commitment to help" was a little better than (1) a 10% reduction in insurance on a car I hardly drive these days, that (2) only applies at renewal time (four months away for me), and that (3) I have to request.
On Twitter, inventive people are playing versions of lockdown bingo, checking off:
things done while confined to the house (like snacked, baked bread)
comments heard while on a Zoom call ("Sorry, go ahead," "Can you hear me?")
hard-to-find items found while shopping (toilet paper, flour, yeast)
words heard while listening to the news (wash your hands, COVID-19, isolation).
They inspired me to create my own version, with corporate clichés taken from emails and ads:
Abundance of caution
Already elevated cleaning protocols
Closely monitoring
Committed (to your safety, health, etc.)
Deep (responsibility, commitment, history)
Double down
During these challenging times
Every possible way
Heightened safety precautions
Here for you
Here to help
Now more than ever
Our valued customers/employees
Pivot
Ramping up
Today more than ever
Uncertain times
Unprecedented times
We're in this together
We're working hard for you
We've got your back
When this is over
What other clichés would you add?
And what version of Lockdown Bingo are you playing?
Related reading:
Double down on your COVID-19 jargon cleaning efforts
Jargon? Doesn't sound best of breed to me