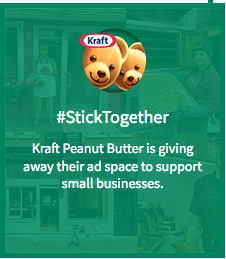 Businesses are struggling with advertising during the pandemic. It's a tough balance, to show that they're still around, still looking for business; yet they are sensitive to the situation.
The result has been a lot of vague "We're here for you" statements and references to these unprecedented/uncertain times. (For a laugh, see this Fast Company piece about how the ads are all the same.)
One ad stands out. It's not for Kraft Peanut Butter, but because of it.
Kraft apparently scrapped its planned advertising when COVID-19 hit, and instead gave the space to local restaurants and bakeries who offer takeout, delivery and contactless pickup. Kraft invited small businesses to explain what they offer, and promoted them on social media using the hashtags #SupportLocal and #StickTogether.
"Canadians don't need to see another peanut butter ad today, but they do want to show support for these local owners who need it, and we want to help," said Daniel Gotlib, senior brand manager, brand building & innovation for Kraft Heinz Canada.
I was already a dedicated Kraft Peanut Butter fan – thank goodness my sons didn't have peanut allergies – and this just makes me love it all the more.
What other advertising have you seen that's getting the balance right?