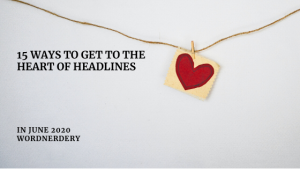 You've created a terrific article, blog post, marketing email or other sparkly bit of content. Now, how do you entice people to read it? Start with an appealing headline.
The June issue of my newsletter, Wordnerdery, collects 15 pieces of advice from such well-known marketing and writing gurus as Ann Handley, Andy Crestodina, Ann Wylie and Roy Peter Clark.
Among the tips I think are most important:
Think about who you're writing for and lead with the benefits.
Make sure you use a verb.
Replace boring "label" headlines.
Read more in the June newsletter. If you have any other headline advice you live by, please share in the comments or send me an email.
Wordnerdery is a quick read about words, effective/expressive writing, newsletters and more. Are you a subscriber yet? If yes, thanks for reading! If not, you can sign up right now. In keeping with Canada's anti-spam laws and just plain good manners, you can easily unsubscribe any time.