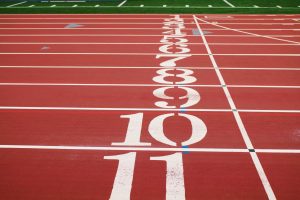 Is your head spinning to realize that 2020 is half over? (And thank goodness for that, although I'm still a little nervous about the murder hornets, the second wave of COVID-19 and other coming attractions.) That means it's time for a backward look at the most-viewed posts in the Red Jacket Diaries so far in 2020.
The pandemic dominated our lives in the first half of the year, so no surprise that it often came up on the blog, too:
1. The post that got the most traffic blended both COVID-19 and a topic near to my heart: getting rid of jargon. Double down on your COVID-19 jargon cleaning efforts suggested explanations and alternate words for many of the confusing words and phrases related to the pandemic, like efficacy and asymptomatic.
2. Jargon also appeared in Play 'lockdown bingo' with corporate clichés. The post looks at the words and phrases we all heard way too much of (like unprecedented, abundance of caution and ramping up) and explained or proposed alternates for them.
3. 'Social distancing' due to COVID-19? Here's how to successfully work from home shared some tips based on my own years of having a home office. Even though many people are apparently living in sweatpants or pyjamas, one of my suggestions is to dress somewhere in between that and your usual work attire.
Words are my business and pleasure, and it appears many of the blog's readers feel the same. Among the most-read posts dealing with words:
4. Songs in the key of COVID-19 blends both words and the pandemic and a bit of a laugh. Check out songs that are already appropriate for this time, like Don't Stand So Close To Me, and others that need a simple word change, like Staying Off a Jet Plane.
5. Somewhere back in those pre-COVID-19 days of early March (remember them?), we marked National Grammar Day. Grammar nerds, this day's for you (us) lists a few common spelling errors (loose instead of lose, peak instead of peek) and points to events and activities linked to the day.
6. Pay up to experience 'exciting changes' takes a closer look at the weasel words covering up the features subscribers would lose when a free service turned pro.
7. After the word amazing got a workout at the Academy Awards, I realized we're more likely to experience good situations. But sometimes good gets overworked too. I went looking for options and found 70 good, better, best alternatives to good.
8. Switch your thinking to keep New Year's resolutions on track shared advice for a different way of looking at the words we use to make resolutions that might help you stick to them. Somehow, "Take baby steps" seems the most helpful in our upside-down world.
Sometimes other things going on in the world besides COVID-19 inspired my posts this year:
9. Back in February, reminders of life-changing events before we had any clue about the pandemic show we need to "get up and run and scream," as I outlined in Life is fragile, so don't waste it. Update to the post: My own fall did end up breaking my glasses, but it was probably time for new ones anyway.
10. Finally, a post prompted by the images of black boxes that flooded social media after the killing of George Floyd and #BlackLivesMatter protests: Black boxes are easy. Taking action is hard. Of course, I don't have any answers to racism, but talking is a start, and I pointed to some interesting and enlightening posts and videos.
Thank you for taking the time to read (and occasionally comment on) my blog. Enjoy the rest of your summer, as best you can while staying safe.
Image: Kolleen Gladden and Unsplash.
Related reading:
Best of the blog to June 2019
Best of the blog to June 2018
Best of the blog to June 2017
Best of the blog to June 2016