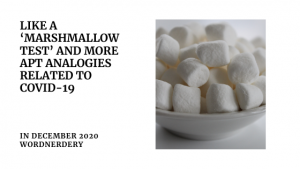 For the past few years, my December newsletter has shared some "life is short" moments. I have more – and during these pandemic times, so do many of us  – but I'm shutting the door on this dumpster fire of a year with another look at creative ways people have tried to help us understand COVID-19.
The December issue of Wordnerdery (check this more mobile-friendly version if you're reading this on your cellphone) includes such great examples as these:
"Sticking to Covid precautions over the holidays is like a national marshmallow test [measuring a child's ability to delay eating one marshmallow for the promise of two], and we are failing it so hard." – seen on Twitter
"You and 9 friends are crafting. One is using glitter. How many projects have glitter?" – The spread of COVID-19 explained in craft terms, seen on Twitter
What other apt analogies have you seen? Please share in the comments.
Related reading:
Life is short: Shortbread and other traditions (Dec. 2019)
Life is short: "If I knew then" lessons from my dog (Dec. 2018)
Wordnerdery is a quick read about words, effective/expressive writing, newsletters and more. Are you a subscriber yet? If yes, thanks for reading! If not, you can sign up right now. In keeping with Canada's anti-spam laws and just plain good manners, you can easily unsubscribe any time.