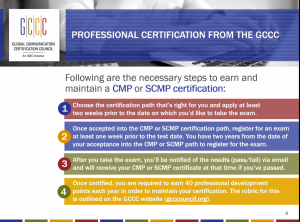 If you're interested in pursuing certification as a communication professional, get ready.
In January, IABC members in Toronto and around the world have a chance to write the exam certifying you as a Communication Management Professional (CMP) or Strategic Communication Management Professional (SCMP).
The exams in Toronto were scheduled to take place on January 22 (1 p.m. to 4 p.m.) and January 30 (11 a.m. to 2 p.m.) at the APEX Public Relations office on Bloor Street. Due to the COVID-19 lockdown in Ontario, they have been postponed. (Find other exam locations here.)
You first need to apply to follow the certification process with the Global Communication Certification Council (GCCC, or "G triple C") at least two weeks before the exam date, and then apply to write the exam. The application fees are $100 for the process and $400 for the exam (all in U.S. funds). It can take up to 30 days to find out if you're approved to take the exam. Choose from:
1. Communication Management Professional (CMP)

You'll demonstrate your competence at the generalist or specialist level. You have eight or more years of experience and can show you've taken 40 hours of training and education (or six years' experience, two years of education and 40 hours of training) over the past two years.

2. Strategic Communication Management Professional (SCMP)

You'll demonstrate your competence as a senior communication advisor. You have 11+ years of experience and 20 hours of training over the last two years. You also need a letter of recommendation addressing the senior level contributions you have made.
Once approved, you must register for the exam at least one week before it's scheduled. If you aren't ready for January, you have two years from the date of your application to take the exam. Ready for January? You'll receive instructions for your physically distanced experience once you've registered.
Note that IABC members in financial need can apply for a 2020-2021 IABC Foundation Gift of Excellence grant covering your CMP or SCMP certification fees. Find details here (PDF) and apply by Monday, December 14.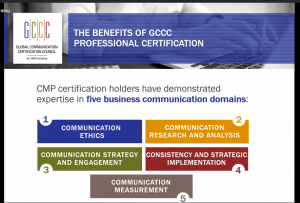 Get ready
If you're a little nervous about the exam, take a deep breath. You should pass if you know what you're doing, according to participants in IABC/Toronto's information session in late October.
"The process is designed around your ability to do the job in real life," said Priya Bates, ABC, MC, SCMP, IABC Fellow. "Look at the work you're doing in your day job, the communications plans, strategies, key messages and results to get in the right mindset."
The exam has 100 multiple-choice questions covering the six core principles of the Global Standard: ethics; consistency; context; analysis; strategy; and engagement. You have three hours and must get 75% to pass. Prepare by checking these resources (many are on GCCC's Study Resources page):
Tips for surviving the exam
Priya shared these tips to work through the exam questions:
Even if you don't have experience in a specific area (crisis communication, for example), think about the best way to apply communication principles to the situation.
Don't get lost in the extra details. Break out key words to help you narrow down what the question really means. Look for clues that point to one answer over another.
Go with your first instinct.
If you aren't sure about a question, put an answer anyway and go back to it later.
Once you've written the exam, you'll get the results within 30 days. If you don't pass, you'll get a report showing how you did in each category to help you prepare for the next try. After a second attempt, you must wait at least six months before a third and final try. There's a $100 retake fee each time.
If you're serious about the exam, get cracking! Priya suggested creating a study group with others taking the exam, to share experiences and real-life examples and quiz each other. She also said: "Go for it!"
Updated Dec. 22, 2020.
Related reading:
My 2017 post explaining the process