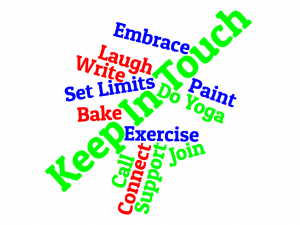 After a year of pandemic life, many (all?) of us are burned out.
Even where it's allowed, we're reluctant to go out for dinner. We can't hug people. Vaccination plans are still shaky, and new fast-spreading variations of COVID-19 are popping up. It's not real spring yet, at least in my part of the world.
Oh, but we're seeing faint signs of hope.
A number of my Professional Independent Communicator friends said on a Zoom social in early February that they've noticed people becoming more compassionate. For some, the pandemic has actually been a gift, shutting down some extra activities and cutting out long commutes. We can celebrate events online with family in other countries, and we can even make it to PIC events – in the "Before Times" held in downtown Toronto – without having to get on the GO train.
Here some of the ways PIC members have found to cope with these pandemic times:
To manage stress
It's a pandemic; of course we're all stressed! The first step in managing stress is to recognize you have a right to feel that way. Then, try these tips:
Exercise; if nothing else, get outside and walk.
Watch comedy shows and laugh.
Do yoga, meditate or practise mindfulness.
Set limits: Know when to say "no" or "I'm available these times and these days."
Respect other people's limits. If working early or late, use the "delayed send" function or say you don't expect or need a reply right away.
Limit your time on social media/doomscrolling.
To stay connected
The human desire to gather is strong, and even introverts are hungry for interaction. Here are some ways to fight isolation and "meet" other people:
Stay connected by phone, text, email, Zoom, even snail mail.
Set up daily and/or weekly calls with family and friends.
Drop-off food for friends or neighbours, and later enjoy it together over Zoom.
Keep in touch with young relatives you can't see in person. Send pages to colour and make a date to colour together by Zoom.
Take part in online conferences. Move your avatar around and have virtual conversations.
To embrace your creativity
One year ago, many of us had big plans to learn something new, maybe even lots of new things. Now we know that just getting through each day can be challenge enough. Still, there's no harm in giving your creativity a subtle boost, no strings attached:
Take a writing class.
Try your hand at painting.
Support and follow musicians, artists, podcasters and other communities on Patreon.
Take Zoom classes in standup comedy and join in open mic nights.
Go ahead, make banana bread and sourdough.
Get inspired by John Cleese's Creativity: A short and cheerful guide.
Above all, don't worry if you're not as productive or focused as usual. It's a pandemic, after all. Be gentle with yourself.
A version of this article first appeared in PIC's monthly newsletter, The Buzz.
Related reading:
10 ways to spark creativity in the time of COVID-19