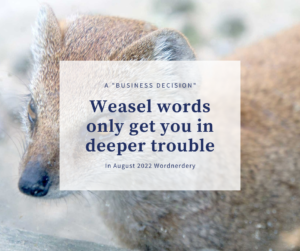 Two weeks after Bell Media and CTV announced that their Chief News Anchor and Senior Editor, Lisa LaFlamme, was leaving after 35 years, the uproar continues. It's a dumpster fire set with weasel words and fanned by rumours of ageism, sexism and a toxic work environment. Phew!
You could smell the BS right from the headline, "Lisa LaFlamme Departs CTV News," as if the departure was her choice.
"Recognizing changing viewer habits, CTV recently advised LaFlamme that it had made the business decision to move its acclaimed news show, CTV NATIONAL NEWS, and the role of its Chief News Anchor in a different direction…"
The August issue of my newsletter, Wordnerdery, takes a guess at what the weasel words might mean and talks about the fallout. As I write this, it's continuing. Pull up a chair and get out the popcorn!
Wordnerdery is a quick read about words, effective/expressive writing, newsletters and more. Are you a subscriber yet? If yes, thanks for reading! If not, you can sign up right now. In keeping with Canadian and American anti-spam laws – and just plain good manners – you can easily unsubscribe any time.