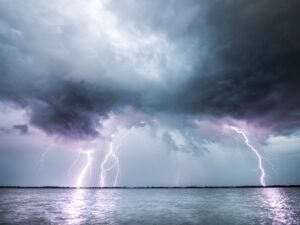 As I note every year around this time, it takes real creativity to come up with truly awful writing. Yes, I'm talking about the winners of the over-the-top Bulwer-Lytton Fiction Contest.
This contest challenges entrants to come up with the opening sentence to the worst of all possible novels. It pays tribute to Victorian novelist Edward George Bulwer-Lytton, the man who gave us the famous 58-word opener "plagiarized repeatedly by the cartoon beagle, Snoopy:"
"It was a dark and stormy night; the rain fell in torrents — except at occasional intervals, when it was checked by a violent gust of wind which swept up the streets (for it is in London that our scene lies), rattling along the housetops, and fiercely agitating the scanty flame of the lamps that struggled against the darkness."
(Of course, if you want readers to more easily understand your writing, you'd want to aim for sentences around 14 words.)
Here's the 75-word grand prize winner of the 2022 contest:
"I knew she was trouble the second she walked into my 24-hour deli, laundromat, and detective agency, and after dropping a load of unmentionables in one of the heavy-duty machines (a mistake that would soon turn deadly) she turned to me, asking for two things: find her missing husband and make her a salami on rye with spicy mustard, breaking into tears when I told her I couldn't help — I was fresh out of salami."  – John Farmer of Aurora, CO

Some of the others I found amusing:
Adventure category winner:
"'Hoist the mainsail ye accursed swine' shouted the Captain over the roar of the waves as the ship was tossed like a cork dropped from a wine bottle into a jacuzzi when the faucet is wide open and the jets are running full blast and one has just settled into the water with a glass of red wine to ease the aches and pains after a day of hard labor raking leaves from the front yard." – Joe Tussey, Daniels, WV
Dark & Stormy category, dishonorable mention:
"It was a dark and stormy night, made darker still by the melancholy that gripped the drainpipes of my soul in a plumber's wrench of despair that opened the u-trap of my consciousness to remove the last, great greaseball of hope." – Jim Anderson, Flushing, MI
Odious Outliers category, dishonorable mention:
"While scrolling through the online catalog of the Acme website trying to decide if he should order rocket roller skates, TNT, and an anvil, or Fool-Me-Twice fake tunnel paint, the Coyote suddenly realized, 'Hey, I could just order food." – Rusty Hamilton, Candby, OR
Purple Prose category, dishonorable mention:
"The sky was as dark as an olive pit, which was either very dark or not very dark at all, depending on which type of olive you're talking about." – Katrien Andria-Habermann, Seattle, WA
The contest is the brainchild of retired Professor Scott Rice at San Jose State University in California. You can enter! Find the "childishly simple" rules and a link to "Inflict Your Sentence." Winners each year are announced in late July or early August.
Photo by Raychel Sanner on Unsplash.
Related reading:
More awful writing to inspire you (2020 and 2021)
Puns welcome in this 'misbegotten brainchild' of a contest (2019)
Truly awful writing to inspire you (from 2016)
Flex your creativity with truly awful writing (from 2012)
Stretch your creative talents in this dark & stormy contest (from 2011)
I first wrote about this amusing contest in 2009