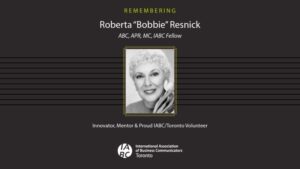 IABC/Toronto members learned late yesterday that an "outstanding leader, mentor, #IABCTO volunteer, entrepreneur and educator" had died. Roberta (Bobbie) Resnick, ABC, APR, MC and IABC Fellow, was a long-time IABC volunteer; the chapter's Student of the Year Award was named after her in 2017.
I interviewed Bobbie when she was named a Master Communicator in 2005. Here is the profile I wrote for IABC/Toronto's Communicator:
Bobbie Resnick: A shining star in the IABC constellation
Is there anything in the communications universe this IABC luminary hasn't done or can't do? To look at the impressive resume of Ms. Roberta Resnick, ABC, APR, Master Communicator, IABC Chairman's Award recipient, CPRS Honorary Fellow and now IABC Fellow, you would think not.
In a career spanning close to 50 years, Bobbie, as she is affectionately known, has dazzled as a communicator, trailblazer, award winner, consultant, educator and mentor. She has extensive experience in public relations and employee and marketing communications, in both the U.S. and Canada. For the past 20 years, she has put her knowledge to effective use for clients as principal of Roberta Resnick & Associates. She "semi-retired" in 2001, although – no surprise! – she continues to fulfill client requests, mentor former students and keep a hand in IABC matters.
Over the years, the most important thing Bobbie has learned is that "Communication is simply talking to each other, openly, honestly and completely," she recently told Communication World. "Talking fosters a connection that, if strong enough, keeps relationships from falling apart."
Many of the connections Bobbie has fostered over her career stem from her long and passionate involvement with IABC. She credits the International Council of Industrial Editors (ICIE), which would later become IABC, with providing her first mentor and her first job in the field. IABC, she says, was responsible for five jobs in three cities (Chicago, Philadelphia and Toronto) in two countries, and all of her clients as an independent, either directly or through referral.
"Looking back over the years, everything I ever had came through IABC – all my jobs, all my clients, every opportunity to learn, grow, test my own competence and build my confidence, and the best friends anyone could ever have," Bobbie says.
Volunteering 'pays it forward'
Bobbie's track record as a volunteer shows just how strongly she feels about "paying forward" all that she's received from IABC.
Right from those early days with ICIE in Chicago in 1959, she threw herself into volunteer roles, chairing the membership, arrangements and publicity portfolios and then becoming national chair of the educational relations committee. Bobbie's touch is likewise evident throughout IABC, as she has progressed from smaller committee roles to more prominent positions as international vice president, Gold Quill chair (and frequent judge), marketing council chair, international and Canada conference program advisor, accreditation guru and more.
"I used to criticize [the late] Kay Staib for never being able to say no," chuckles Bobbie. "She always dragged me into doing awards, or judging publications or some such task. I would say to her, 'Don't you ever say no?' But now I find myself in exactly the same situation. Those of us who have been around a long time recognize that we owe so much to IABC, and it's so important to pay it forward."
Those who can, do and teach with passion
Another role in which Bobbie excelled was that of educator. She dipped a toe in the educational waters in the mid-1960s, representing ICIE on the American Council of Education for Journalism, the group responsible for accrediting journalism schools across the United States. Her "Model Curriculum for Undergraduate Journalism Students" was later marketed to business school professors, recognizing that their graduates might end up with responsibility for corporate communication.
She never looked back. Since then, Bobbie has facilitated numerous in-house communications training sessions and helped design courses and taught at St. Clair College in Chatham, Ontario and Toronto's George Brown College, Seneca College of Applied Arts & Technology, Centennial College and Ryerson University [now Toronto Metropolitan University].
More than 350 students have graduated from classes taught by Bobbie, and Seneca graduate Patti Jordan explains why many stay in touch. "Bobbie cared about helping students achieve their fullest potential, both as writers and as communication planners. Assignments were typically returned to students with copious notes and detailed suggestions for improvement, yet criticism was always constructive."
Bart Mindszenthy, APR, CPRS Fellow, recalls meeting Bobbie when he was chair of Seneca's Public Relations program advisory board and she was an instructor. "Virtually every one of her students respected and adored her," he relates. "She was always fair and firm, tough and touching, eliciting the personal best from all. She challenged students every day, but always with dignity and respect for the person and his or her level of ability."
Bobbie is 49th IABC Fellow
Bobbie's outstanding leadership, contribution to the profession and service to the association were recognized at the international conference in June when she became an IABC Fellow, the highest honor bestowed by IABC to an individual member.
"It was a shockingly big surprise to find out I received this honour," she says. "I thought I was too old and too out of the mainstream to garner serious consideration." Her nominators beg to differ.
"Years ago, IABC identified the key qualities and skills necessary for its top leaders: communications professionalism; superior leadership ability; good team-player; seasoned manager, people-oriented; committed to IABC; known, respected; energetic, dynamic; earns respect of volunteers; issues- and goal-oriented," says Robert Berzok, ABC, IABC Fellow. "Bobbie excels at each and every one of these qualities and skills, professionally and with regard to her countless activities within our association."
When Christopher Bunting, ABC, IABC Fellow, thinks of Bobbie Resnick, one quality stands out: her power and influence as a mentor. "Through every step of her long and successful career, she has mentored dozens and dozens of up and coming communicators in a most constructive, substantive and passionate way…[and also been] a wonderful mentor to her friends. I have very often turned to Bobbie for advice and counsel. She has always been there, and I have always learned from her."
Ralph Beslin, ABC, echoes the praise. "Bobbie embodies the combination of professionalism and collegiality that exemplifies an IABC Fellow," he says. "By being always ready to help and always giving nothing less than 100 per cent, she has touched so many of us IABCers, and we are all the better for it…Regarding this recognition, Bobbie would roll her eyes and say, 'What's all the fuss about?' Those of us who know her well would nod approval and say, 'It's high time to make a fuss about someone who so definitely deserves this recognition!'"
Congratulations on your most recent achievement, Bobbie, and may your light continue to shine.
– 30 –