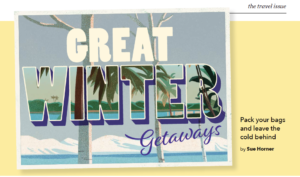 This year, I had the privilege of writing for the 80,000+ mostly retired members of RTOERO and their magazine, Renaissance.
RTOERO has its roots in the Ontario Teachers' Federation although not all members are teachers. They work in or are retired from the education sector – including public and private schools, school boards and post-secondary institutions.
My article for the Winter 2022-23 issue of Renaissance (it starts on page 25) looked at places Snowbirds are going besides the classic Florida and Arizona. From Costa Rica and Cuba to Panama and Portugal, many countries offer long-term stays at reasonable prices, within walking distance of everything you need.
Researching the places where Canadians love to travel sure has me dreaming! What most appeals to you? Or have you been somewhere not in the article? Please share in the comments.