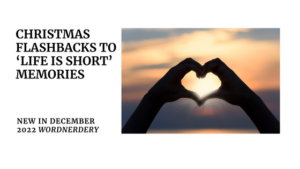 In December 2016, Facebook memories showed me a photo of my black Lab, Jake, staring at my son's Christmas stocking.
That photo was taken during what turned out to be Jake's last Christmas. With the famous clarity of hindsight, I thought, and wrote about, "Why didn't I give him something he so clearly wanted?"
Readers liked the post so much that those thoughts turned into the first of four "life is short" editions of my newsletter, Wordnerdery. In the December 2022 issue, I gather them all together.
I'm grateful that readers are feeling the Christmas feels too. Here's what some have written:
"Thank you for sharing this lovely newsletter with so many inspiring stories and links."
"Always a lovely read."
"Great stuff."
"Nice warmly written post."
I hope you enjoy the issue too, and happy holidays.
Wordnerdery is a quick read about words, effective/expressive writing, newsletters and more, including the occasional diversion to talk about life. Are you a subscriber yet? If yes, thanks for reading! If not, you can sign up right now. In keeping with Canadian and American anti-spam laws – and just plain good manners – you can easily unsubscribe any time.