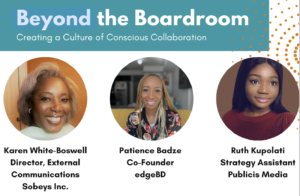 Communications professionals play an important role in the companies we work for. We're their eyes and ears. We're the lens through which they view the world. And we help define and share the strategies that move the company forward.
So what are we doing to support and position diversity?
What needs to change to meet the renewed commitments companies made after the murder of George Floyd in 2020?
Those were some of the thoughts behind a panel discussion held by IABC/Toronto's Professional Independent Communicators (PIC) marking Black History Month in February.
Speakers were Karen White-Boswell (she/her), Director of External Communications for Sobeys; Patience Badze (she/her), PIC member and co-founder and Operations Director of EdgeBD; and Ruth Kupolati (she/her), Strategy Assistant, Media Planning, Publicis Media. Moderating the discussion was Christopher Trotman (he/him), Senior Communications Advisor for Partners Community Health, principal of Trotman Communications and PIC's co-Director of Programming.
The panelists agreed that diversity in the workplace has a long way to go.
"There's more diversity than when I started, but not enough," Karen said. "We always feel the weight of being the first Black person in a room, or that feeling when we walk in and see another Black person and think, 'yay!' – I'm waiting for the day when my young daughters don't have to go through that."
"It does feel like there isn't enough representation," agreed Patience. Coming from South Africa, she was used to being in an environment where 90% of the people around her were Black. She arrived in Canada three years ago and wondered, "Where are all the Black people?"
Ruth noted that when she first started working, it was rare to see people who looked like her at higher levels. "The support you get from someone who looks like you is always different," she said.
Support is a key part of success in diversity
Ruth says she had "amazing leaders, who supported my right not to serve clients who used racial slurs or talked down to others," she said. Still, she found herself checking things three times and working twice as hard to prove herself.
Karen, too, had the benefit of leaders who saw her as someone at the table with talent, treated her with respect and demanded that others do so, too.
"That kind of allyship in my career has helped me overcome a sense of imposter syndrome," Karen said. She described questioning herself when she was treated as if she couldn't possibly be the director, or the keynote speaker, or someone at the VIP table.
How to support diversity
The discussion touched on a number of ways to support diversity, from the strategic to the tactical.
For individuals:
Collaborate with others to go after bigger opportunities. Christopher mentioned being part of a collective of Black professionals who collaborate on fees and bid on projects together. Kalabash came together after a private foundation created a directory of 150 consultants, yet fewer than 10 were people of colour.
Make sure your client communicates in a way that's inclusive. Call out when an initiative is just for show or isn't respectful. Sometimes it's better to listen and say nothing rather than come off as inauthentic.
Challenge assumptions and call out bias. Make a difference. Be ready to help deliver a message if your Black colleague is meeting resistance.
Advocate for your colleagues. Help their voices be heard. Be someone to go to for advice.
Learn to advocate for yourself. It's not easy, but do this often to build confidence. Patience says that she's willing to say, "This is what I'm worth, this is what I need for this job to make sense. If you don't peg your worth, you're giving power to someone else."
On the company side:
Build capacity for Black professionals to be successful and advocate for them. Make sure their voices are heard.
When recruiting, make sure you're thinking about diversity. How are you creating access for diverse applicants to learn about the position and feel encouraged to apply?
Stop asking for 10 years of experience in job requirements. That requirement effectively excludes people, since many opportunities weren't open to diverse agencies or candidates 10 years ago. Instead, what does the role really need?
Ask for diversity in your pool of suppliers. Match it with a way to fix systemic challenges so you actually give the work to diverse suppliers as well.
Join the BlackNorth Pledge and actively strive for change. Commit to tackling systemic racism and improving the number of Black employees, executives and directors; then do it.
Step back if your company can't do or say anything meaningful. Listen and learn. Understand where it needs to change.
One of the participants later said, "I greatly appreciate this conversation, as someone who does not often come across comms peers who 'look like me' …I like the last comment on the value of listening and learning from each other. Thank you."
This event recap first appeared in the PIC newsletter, The Buzz.