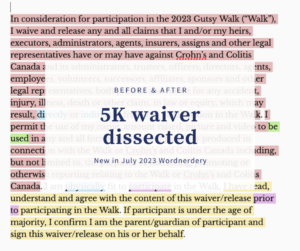 If there's an event involving people, you can bet someone is going to get injured. Oh, and the organizers don't want to be responsible. That seems to be the thinking behind the official waiver you must sign to take part in a 5K run or walk.
But will people understand what they're signing? Running text through the Hemingway app shows how easy something is to read – or not. I love this tool because it's so obvious when writing has gone off the rails. Yellow highlights the sentences that are hard to read. Pinky-red highlights ones that are VERY hard to read.
I've already dissected the waiver for the 5K Push for Your Tush, a fundraiser for Colorectal Cancer Canada. The July issue of my newsletter, Wordnerdery, takes a look at a similar one for the Gutsy Walk. This is a fundraiser for Crohn's and Colitis Canada that happened in June.
Check out my newsletter to see how rosy the 195-word waiver looks in the "before," and how dense the reading level is. Then see how simple changes like removing extra words and using short words and sentences drop the complexity of the "after." It's all in July Wordnerdery.
Have you seen a "before" piece of writing that needs an "after"? Please share. I'm always looking for good (bad) examples.
Wordnerdery is a quick read about words, effective/expressive writing, newsletters and more. Are you a subscriber yet? If yes, thanks for reading! If not, you can sign up right now. In keeping with Canadian and American anti-spam laws – and just plain good manners – you can easily unsubscribe any time.