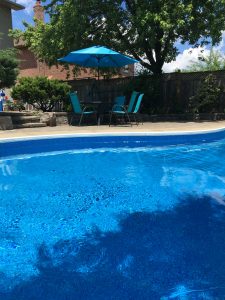 What are you reading in the Red Jacket Diaries? I'm always looking under the blog "hood" to see, and share the top 10 midway through each year. And since you know the year is half over (already!) when it's pool season in Canada, it's time.
Here are the top 10 most-viewed posts so far in 2023:
1. Communication professionals can now get certified, and the post that got the most traffic summarized tips for preparing for and writing the GCCC exam. Read more in Thinking about getting certified? Here's what you need to know.
2. The association I belong to, International Association of Business Communicators (IABC), is basically run by volunteers. That made it even more of an honour to have been singled out among the hundreds in the Toronto chapter as its one Volunteer of the Year. I look back at my volunteer journey and its benefits in Update to my 'glory' file with a lovely honour.

3. The English language is forever growing and changing, and every year, dictionaries choose the words that best reflect the year. The ones chosen for 2022 are collected in Gaslighting and goblin mode among the 2022 words of the year.
4. I summarized a panel discussion about how communication professionals can support diversity, put on by IABC's indie group, PIC, to mark Black History Month in February. Read the tips in It takes more than a social media post to drive change.
5. What is it about a company's "Terms of Use" that demand wordy, baffling language? I rewrite the terms of an email provider in Streamline sentences to translate terms (a before and after).
In 2021, I started sharing collections of some of the smart, helpful, interesting and sometimes funny pieces shared on social media. Because what are the chances you would have been on the specific place at the specific time when I first posted them?  A number of these made the top 10:

6. One of the most-read roundups related to diversity, equity and inclusion (DEI). The tips for better inclusion in Links you might have missed, January edition, touch on the Curb-Cut Effect, metaphors that may be offensive and guidelines on using pronouns.
7. Here's another roundup of social media posts, this one all about writing. You'll find advice for compelling stories, better list posts and editing your own writing in Writing tips in links you might have missed, February edition.
8. Another popular roundup had advice for digital newsletters, reaching deskless workers and adding words to your professional vocabulary. Read more in Thoughts on newsletters, print(!) and words; all in links you might have missed, March edition.
9. Early in the year, I shared tips on getting back into writing after the holidays, tips to be a better writer and what you can learn about writing from Taylor Swift. Check out Writing tips in links you might have missed, December edition.
10. Artificial Intelligence has been in the news this year, and a popular roundup of social media links about it was Much to say about AI and ChatGPT, in links you might have missed, April edition. The links point to articles about the uses and misuses of AI and keys to getting better results through better prompts.
As always, thanks for taking the time to stop by the Red Jacket Diaries. Enjoy your summer!
Related reading:
The top 10 halfway through 2022 (including Wordle tips)
The top 10 halfway through 2021 (including he/she/they)
The top 10 halfway through 2020 (including COVID-19 jargon)