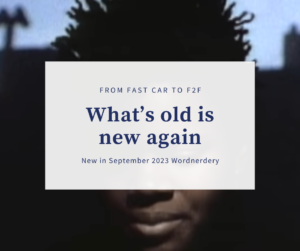 On summer drives this year, I heard one song over and over again: Fast Car, sung by Luke Combs. You, too?
The song isn't new, although Luke's version is. He was born in 1990, two years after Tracy Chapman released the original. Luke had sentimental memories of driving with his dad and listening to the song, which earned a Grammy and peaked at #6 on the Billboard Hot 100. Luke's version reached #2 on the chart and introduced the song to a new generation.
A similar "what's old is new" musical moment happened in 2022 with Kate Bush's song, Running up That Hill (A Deal with God). The song came out in 1985, but got new attention when featured on the TV series Stranger Things in June 2022. The original reached #30 on the Billboard Hot 100 while the new version hit #8.
What else is old but new? The September issue of my newsletter, Wordnerdery, takes a look at a few other recent flashbacks. It mentions a couple of communication-related old-is-new examples. Take a look, and let me know if you have any other examples.
Wordnerdery is a quick read about words, effective/expressive writing, newsletters and more. Are you a subscriber yet? If yes, thanks for reading! If not, you can sign up right now. In keeping with Canadian and American anti-spam laws – and just plain good manners – you can easily unsubscribe any time.