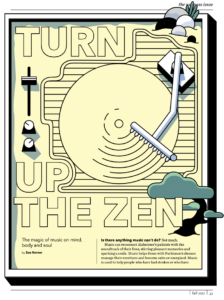 Porch concerts were a thing in some neighbourhoods during the pandemic. It's not surprising; music has been shown to lessen the effects of depression, anxiety and other mental health issues, all of which soared then and remain high.
My client asked me to write about the effects of music on mental health, including comments from some of their members. View it below, or starting on page 23 in the Fall issue of their quarterly magazine, Renaissance (pdf).
***
Turn up the Zen
Is there anything music can't do?
Music can reconnect Alzheimer's patients with the soundtrack of their lives, stirring pleasant memories and sparking a smile. Music helps those with Parkinson's disease manage their emotions and become calm or energized. Music is used to help people who have had strokes or who have mobility issues or depression.
Certified Music Therapists use music purposefully to support development, health and well-being. Those who benefit include people with difficulties such as acquired brain injury, AIDS, developmental disabilities, anxiety and other mental health challenges and pain.
The Global Council on Brain Health gathered experts in Washington, DC, in February 2020 to examine the effects of music on the brain. The experts agreed that engaging in music can support brain health as people age.
Perhaps most importantly, as the world recovers from the pandemic, music has been shown to lessen the effects of depression, anxiety and other mental health issues.
Who's using music?
The Centre for Addiction and Mental Health (CAMH), Canada's largest mental health teaching hospital, believes in the power of music.
"Through music we can create meaningful connections between people and their stories, to help pave the path to recovery," says Sarah Downey, President and Chief Executive Officer, CAMH.
CAMH introduced mobile arts programming in 2018, bringing a small mobile recording studio to patients at the centre. The weekly program explores songwriting as a healthy form of self-expression, and has engaged more than 1,100 patients. Over the pandemic, the in-person program switched to virtual, but a new permanent space is being created.
In a pilot in the winter of 2023, CAMH launched another music program, this one in partnership with the Toronto Symphony Orchestra (TSO). The Art of Healing program is a culturally responsive healing and wellness initiative supporting First Nations, Inuit and Métis patients at CAMH. The TSO is working with a Métis composer and Indigenous patients to support their healing through storytelling and musical composition, creating an original composition for the 2023-2024 season.
TSO has other music programs to reach diverse communities and support well-being. TSOUND Connections, for instance, uses music and technology to reach seniors in care to reduce social isolation. Created in response to the immediate and long-term effects of the pandemic, TSOUND connects seniors with a TSO musician for a 30-minute session of music and conversation over Zoom or Google Meet.
The Vancouver Symphony Orchestra and the TSO both offer "relaxed performances," designed to be more welcoming for neurodiverse patrons and those with dementia, ADHD or sensory and communication disorders.  The shorter, casual performances provide a sensory-friendly experience so people can move around and have access to sound-dampening headphones and quiet spaces.
The National Music Centre in Calgary launched two weekly music therapy drop-in programs in 2022 for seniors and others navigating life transitions. Participants in FunDrum learn and enjoy singing and drumming in a circle while those in HealthSong sing, create playlists, analyze lyrics and find the music that keeps them feeling connected.
Put music to work for you
You don't need an official program to benefit from music. In its Music on Our Minds: The Rich Potential of Music to Promote Brain Health and Mental Well-Being report, the Global Council on Brain Health suggests we build music into our lives to promote mental well-being, increase social connection and stimulate thinking skills.
Here are a few ways to make the most of music:
Dance, sing or move to music – alone or with friends and family, in person or virtually.
Listen to music you already know and like.
Listen to new music; experiment with suggestions from music apps like Spotify.
Make playlists that help you feel calm or energized.
Exercise to music.
Learn to play a musical instrument.
Sing along – loudly! – to one song each day.
Whether you're into country or classical, rock or rap, music is good for you. Have you given it a try?
**
Three RTOERO members also shared their love of music in a sidebar to the article. View the full article in Renaissance (pdf).
Related reading:
How do RTOERO members make family reunions memorable?
Dreaming about long-term travel? So is my client