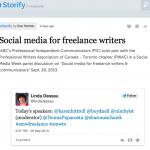 Have you used Storify yet? This handy free service "makes the web tell a story." You collect – or curate, if you'd rather use the current buzzword – public tweets, pictures, video and other content from around the web, dragging and dropping them into the Storify framework to publish as a story. It's great for summarizing a meeting or conference, relating a conversation or collecting reaction.
I've used it several times specifically to collect tweets, which of course makes me an expert qualified to share with you today my do's and don'ts for using Storify:
DO find conversations using keywords or the humble hashtag, #. IABC holds #commchat every Wednesday at noon EST. The Professional Writers Association of Toronto – Toronto chapter shares tweets during professional development sessions using #pwacpanel. Solo PR Pro runs a regular chat for independent PR consultants at #solopr on Wednesdays from 1 to 2 p.m. EST. All have Storified their chats.
DO give your story a title that explains the topic under discussion for later reference.
DO provide context by adding text commentary in between tweets or other media. If the conversation includes questions and answers, for instance, pull the question out into a text box and pull tweets in as answers below (A1, A2, etc.).
DO, if running questions and answers, include all answers to the same question in the same section, even if they came in out of sequence.
DO pull out the best tweets, ones that help people make sense of the conversation or learn something new.
DO include a variety of media. Pictures especially add visual appeal to your summary.
DON'T use retweeted messages just to include another person. It's just redundant.
DON'T include apologies from people joining the chat late, even if your reason is to show their participation; just include the interesting comments they make.
DON'T include every single comment. You're summarizing, not providing a complete transcript (unless you are, in fact, providing a complete transcript).
If you've used or read Storify, what other tips would you add?
Related posts: