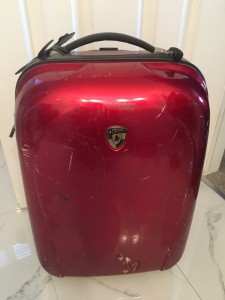 Just back from travelling to New Jersey with my mother to visit her younger sister. My aunt lives in Freehold, where Bruce Springsteen was born and raised and which is apparently the subject of his song, My Hometown. We drove past his first home, kind of a disappointment in that there is not even a plaque mentioning his name. (If you're interested, it's a nondescript white duplex on Institute Street.)
This tale does have a link to communications, and of course it's related to the lack of same with our friendly national carrier, Air Canada.
I've learned from trips on AC where my baggage went missing for several hours or a day or simply took an extremely long time (up to a day!) to arrive at the baggage claim. Now, I travel whenever possible with just a carry-on bag. I received a great bag as a gift — the Heys x-case, billed as the world's lightest carry-on, which it truly is. It also holds everything you need for a long weekend; even a week, if you're a good packer.
My bag is as shiny and red as a candy apple, but to keep that lovely finish, it shouldn't be checked or thrown in with other bags.
So what happened when I boarded my flight? Air Canada doesn't warn you of this ahead of time, but their Jazz flights are tight for space and they don't let you bring on carry-on bags other than a purse or laptop. You have to leave your bags at the bridge and they stow them somewhere, bringing them back to the bridge at the other end.
Long story short, the lovely, shiny finish on my Heys is now scratched and scuffed from the usual treatment bags receive. Had I known about this practice (policy?), I would have brought a different suitcase.