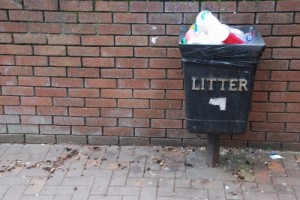 It's garbage day in Oakville, and I'm feeling virtuous.
Actually, things have changed around town and it's recycling day. We no longer get garbage pickup every week and recycling every two; now it's recycling every week and garbage every second week. I applaud this change.
The change came about because we finally have a green bin that accepts food waste, tissues, toilet paper rolls and all manner of things that used to go in the garbage. A pilot project went on most of last year and my street was the edge of the pilot area. So I could only watch jealously as my neighbours across the street had a test green bin. Our side of the street didn't get them.
The pilot was a success and the bins rolled out across Oakville last month. I have a compost bin and use it regularly, but having a green bin reduced the garbage by a surprising amount, since it takes things like bones, leftovers and stale bread. There really isn't a need in our house for garbage pickup more than once every two weeks.
Around here I have long been the Recycling Police, swooping in to move things that someone (usually my husband) has put in the garbage when it should be recycled. Now I am the Compost Police too, transferring errant banana peels and chicken wings to the bin under the sink.
In case you're wondering, yes, I hug trees. Not sure my dog does good things for the environment, though.