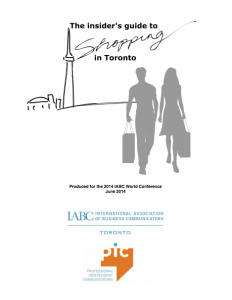 If you're visiting Toronto, have I got a guide for you.
Most visitors to a new city do a bit of shopping. Maybe you pick up a souvenir to take home, or you replace a shirt that has miraculously sprouted a coffee stain, or you need some toiletries. But where do you go?
Something I have often thought of but never found while attending an IABC World Conference is an insider's guide to shopping in that city. Where do the locals go to buy a pair of jeans, for instance? What's the best spot for souvenirs? Is there a place close to the hotel I shouldn't miss?
For an IABC conference in Toronto in 2010, local colleagues within IABC/Toronto's Professional Independent Communicators and I produced The Insider's Guide to Shopping in Toronto.
As the guide notes, there are plenty more stores than are listed, but we tried to keep recommendations to those from someone we know and that are within a reasonable distance of the conference hotel.
Particular thanks go to Christina Scicluna, who was an invaluable resource in sharing the results of her own personal adventures and pulling together recommendations from other friends and colleagues, and Teri McMahon, R.G.D., who designed the guide. I'd also like to thank the numerous people who responded to my requests for recommendations on Twitter or email.
For more online shopping advice, visit Toronto Life Shopping and Toronto Shopoholic, a blogger I found via Twitter but too late to get into the guide.
While the conference is past, many of the stores live on. Download it now:
The Insider's Guide to Shopping in Toronto
I'd love your feedback!