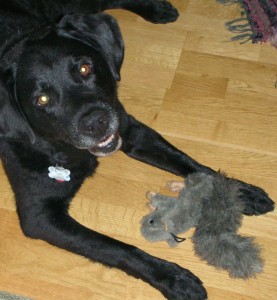 (<— Real dog, fake squirrel)
Quite a while ago, an association I belong to created some new marketing material. Prominent on what really was a good-looking piece was a stock photo of a group of people, basically standing in for those of us who are actual members. The stock photo is also front and centre on the web site.
I registered my complaint at the time that someone visiting the site might reasonably expect these people to be our members; they are not. I also felt that there was nothing wrong in showing a less-staged photograph — or even a staged photo — of our own members. After all, it's not as if our looks are likely to terrify small children or anything!
So I'm pleased to present some support for my thought that the world needs more photos of real people:
Michael Katz, who writes a great "e-newsletter on e-newsletters," points out that:
"Real clients hire real people. If the real people in your company don't appear on your web site, how are these clients going to know when they've found you?"
Web usability guru Jakob Nielsen says that web users pay close attention to photos, treating them as important content — particularly photos of products and "real people (as opposed to photos of models)."
"…users ignore stock photos of 'generic people.'"
What do you think? Are stock photos obvious? Do they bother you?