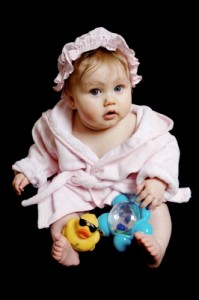 Get your bathrobe ready! Monday, February 21st is the 8th annual Doing Business in Your Bathrobe Day, an annual celebration of the freedom and joys of owning your own home business.
Blogger Kristie Rimmele calls working from home "an empowering way of life worth celebrating," and I heartily agree. The best thing isn't working in your bathrobe, though; it's that you CAN work in your bathrobe.
I don't normally work in my bathrobe. I shower, put on makeup and dress as if I'm headed farther afield than down the hall. Sure, I wear jeans and a sweatshirt instead of a suit on days when I'm working in my home office. But the point is, I could be sitting here in fluffy bathrobe and slippers, and who would know?
Bathrobe or not, working in a home office gives you the flexibility to work the way you work best and the way that brings balance to your life. Snow days don't send you into a panic as you try to figure out how you can work from home for a change, because you're already there. You can work as long as you necessary to get the job done, or run errands at odd hours when you're caught up.
As Kristie says, having a home office is the ultimate life balancer. "Working from home gives you the freedom to schedule your work around life, rather than the other way around. That way you can create a life that you truly love."
So if you're already in a home office, celebrate! Visit Kristie's site to enter her contest (you could win a bathrobe and other prizes) or share photos of you working in your bathrobe, even if it's just a staged shot.
What about you? Do you work in a bathrobe or fuzzy slippers?
Thanks to Sharron Goodyear / FreeDigitalPhotos.net for the bathrobe baby photo!