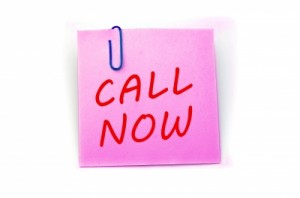 (Updated April 13, 2016.)
You're tired of getting phone calls from strangers trying to sell you duct cleaning, aren't you? But if you know a great esthetician, don't you want to find out that she's moved to a different salon?
Of course you do. That's what I told my friend Pat, who went from working full-time out of her home, to working part-time at a salon, back to working from home, but was reluctant to "bug people" by calling to let them know.
It's okay to follow up.
This type of follow-up is nothing like the annoying calls from people you don't know trying to sell you something you don't want, as I told Pat.
She has been a valued service provider for years, and I want to know if she's moved, or that she's more available to me if I need a manicure on short notice.
It's a good chance for Pat to see if the previous clients still want to hear from her, or if they would prefer to be taken off her list.
It's a good excuse to collect email addresses. Then she can easily let people know about new products or services, any specials she's running, or just remind us that, say, spring is a good time to think about a pedicure, without running afoul of anti-spam laws.
So if you provide a service, think about the relationship you have with your clients. Will they appreciate hearing from you if you can be more available or valuable to them, even if you haven't talked lately? Is it useful for you to know if they don't need your services any more? In both cases, I think so.
Remember you are nothing like a telemarketer. Follow up!
Update: I just heard from Pat, who has moved, is no longer working from her home and is working out of two new salons. Did I want to hear from her? Yes. Did I book an appointment? Yes. 🙂
Image credit: Thanks to Michal Marcol and FreeDigitalPhotos.net.
Save