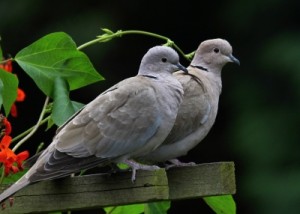 9/11. It's become shorthand instantly understood around the world for a day filled with tragedy. Can it really be 10 years since we watched, horrified, as one plane and then a second crashed into the World Trade Center?
I was at work in my home office when my husband called. He was on his way to the U.S. by car, and was stuck in a lineup at a border that had suddenly slammed shut. "Turn on the television," he said.
Funny how work that seemed so important minutes earlier instantly became pointless.
Today, newspapers, television, social and other media are filled with memorials and memories — like Life Magazine's 25 most powerful photos — and reminders to treasure the people who are important to you. Let's hope that spirit will translate into a stronger movement for peace.
Image: Doves for peace, from Paul Brentnall and FreeDigitalPhotos.net.