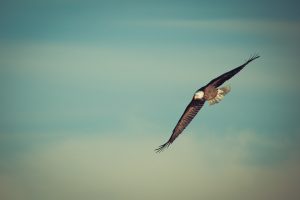 For Tom Kaufman of TK Enterprises, attitude is everything.
"Do you want to soar with the eagles, or gobble with the turkeys?" he demanded at meeting of IABC/Toronto's Professional Independent Communicators.
Tom's topic was "Marketing on a tight budget," and he had plenty of suggestions. First, though, he made sure the group agreed that we aren't in sales or communications, but in the problem-solving business.
"If you can solve a problem I have, you have value to me," he stressed, adding, "Don't tell people what you do, tell what you can do for them."
Tom said the most important part of the sales cycle is needs identification.
He advised us to define and know as much as possible about our target market, keeping track of current and prospective clients in a database. He suggested getting a business plan in writing, saying, "Don't be random. Marketing should be an organized, sequential activity."
Budget $500 to $2,000 each year for marketing, he said, covering such things as membership in networking organizations, attending networking events and business cards and other stationery.
Here is more of Tom's advice:
Business cards:
Make sure your cards say what you can do and are easy to read. Leave the back blank with a matte finish, so people can write a note about where they met you. Only give your business cards to "qualified prospects," who are people you can help and who are willing to pay. After you get someone's business card, follow up within eight to 14 hours.
Cold calling:
You have five to seven seconds to get attention, so have a unique selling proposition. Seventy percent of success is how you script your call. Ask gatekeepers for help or an opinion; "Who's the best person for…?" You can leave a couple of voice mail messages, then another one saying you will put the person on a "do not disturb" list and will call again in three months if you don't hear back.
LinkedIn:
"You will not be successful in life unless you know a lot of people." Get on LinkedIn. Join groups and associations. Contact executives or companies in your target market.
Newsletters:
You want to be top of mind but in a subtle way, and a newsletter is a great way to do this. Keep it simple, current, interesting. Don't promote your product or service, but share tips, success stories (what Tom called "victory stories"), highlight a small business that has helped you or one you have helped, talk about upcoming seminars or share newsworthy articles. If you get a business card, ask permission to send the person a copy of your newsletter. Include a way to opt out in every issue.
Website:
Your website gives you credibility. Provide background and more information on you and your product/service.
Tom also discussed pricing, advising the group to "Find out what your competitors are charging, determine what the industry will bear and never be the cheapest." He likes to say, "I may not be the cheapest but I'm the most valuable." Factor in your time and gas, charging 50% of your hourly fee while travelling.
Tom encouraged the group to get out and market, saying, "You've already grabbed the low-hanging fruit, now you've gotta go shake some trees."
What points stick out for you? What successes have you had marketing on a tight budget?
Posts about pricing from other PIC meetings:
How to get paid what you're worth
Pricing tips for indie communicators
Image: stacy vitallo and Pixabay.