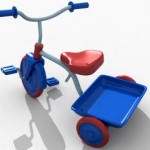 It's a long weekend in Ontario, so let's lead into it with some Friday word fun!
Creative haikus about traffic (thanks to Sue Ridewood for the link). Example appropriate to Ontario holiday weekend traffic: "Need a few days off / after Sunday night drive from / the vacation house."
Shakespeare's plays compressed into tweets, usually funny. Example: "Hamlet: Hamlet avenges his father, and it only takes four hours."
Funny name quiz. Is it a discontinued Ben & Jerry's ice cream flavour or a band on MySpace? Hard to tell!
Everyone is talking about the smutty Fifty Shades of Grey. But the funniest are Ellen DeGeneres and (not safe for work) Gilbert Gottfried reading excerpts from the book.
Have a great weekend!
Image credit: Idea go and FreeDigitalPhotos.net.