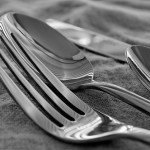 Last night, I enjoyed dinner at a local restaurant. Great food, excellent value, attentive service and an elegant setting.
There were TWO of us in the restaurant. Four, if you count the waiter and the chef.
I was tempted out on a Tuesday night because the restaurant has someone on Twitter who tweeted last week that there was a fixed price menu. I couldn't go last week so asked if this was a regular thing. The reply was that it was on this week and all of September. So when Tuesday came around, my husband and I decided to try it.
There was no mention of "prix fixe" on the sandwich board outside the restaurant, although it did mention $5 martinis and "dinner specials." (Doesn't every restaurant have those?) Inside, there was no special prix fixe menu page inserted into the regular menu. We had to ask the waiter about it and if we had the right night, and he cheerfully said we did. He listed the choice as salad or soup, then chicken, fish or steak, and dessert.
We had to ask for specifics. What kind of chicken? Grilled. What kind of salad? Caesar, or mixed greens. Eventually, we were able to figure out that the prix fixe dishes were the same as ones listed in delicious-sounding detail in the regular menu. So we ordered and really did enjoy the meal.
But looking around the empty restaurant, we wondered how long it could last. Having a special menu is a great idea to liven things up on a quiet night, but you have to let other people know about it. Tweeting once or twice isn't enough. Sure, Twitter should be part of the marketing mix, and plenty of tweets a few days before would help spread the word around. But dabbling in social media isn't enough. You can't forget about the other pieces that make it easy for diners to plan a visit, or to be lured in off the street.
Image: Dave Crosby via Creative Commons.