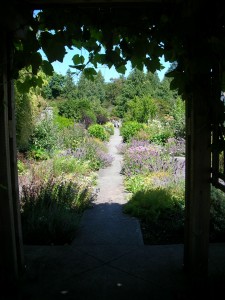 Beautiful gardens are part of the charm of Royal Roads University in Victoria, BC. While I was there, I found myself enchanted as much by the various doors and gates throughout the gardens as by the colourful peacocks that roam the grounds.
If you want to get all analytical, you could probably tie the obsession to the whole idea of the educational journey I was on. Viewing the various gates and doors conjured up the idea of stepping into the unknown on the other side. Of course, the practical reason for many of the doors was keeping critters in or out of protected places.
You can see a series of photos taken in the Royal Roads gardens, along with the gate to my own backyard and some other appealing doors and gates, on my Pinterest page.
What do you think? Do you find photos of doors interesting? Or is this kind of like my obsession with those peacocks?
(Photo credit: Sue Horner)