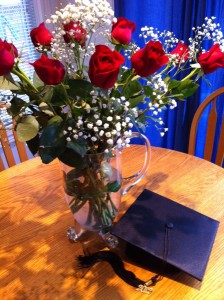 My two-year degree program ended in mid-July, but that chapter came to a true end with a one-minute or so walk across the stage at the Royal Theatre in Victoria, B.C. for convocation on Tuesday.
My classmates and I don't actually have our BA in Professional Communication degrees in hand; apparently, like many cheques, they are in the mail. But we got to wear the fancy gown and hood and mortarboard with tassel, and have our names read out as we crossed the stage to shake the hands of the Royal Roads University Chancellor and President, each wearing his own special regalia.
In my home office, I typically work in stocking feet, so it was a miracle I did not trip in my high heels (lipstick red). I didn't get choked up either, surprisingly, but I was in enough of a state that I couldn't tell you what the Chancellor said besides "Congratulations." The President asked me if it was all worth it, and I said yes.
A number of my classmates are already talking about next steps; a Master's degree, maybe. Some have already been promoted or started new jobs. Most of us are taking some time to just let our experience sink in. I'm certainly not in any rush to start something this big and have the stuffing kicked out of me again any time soon. But never say never, as Justin Bieber sings.
If YOU are in the middle of or contemplating an experience like this – which Royal Roads has summarized in their new tagline, Life.Changing – feel free to connect with me for a sympathetic ear!