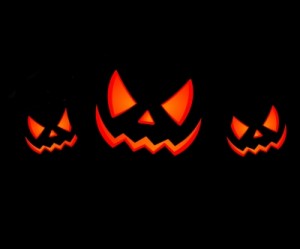 One of my neighbours used to create increasingly elaborate scenes on his front lawn at Halloween:
The figure of Dracula rested in a coffin; actually the neighbour's son, he came to life and rose as children shrieked and ran past.
The blade of a guillotine, already dripping with red, loomed over another figure.
Various ghosts and ghouls dangled from trees.
It was all designed to scare the dickens out of local kids roaming the streets, and it did. Yet they flocked to the house.
Beyond the thrill of a "safe" scary scene, doing what scared these kids rewarded them with lots of treats – and the good kind, like chocolate!
Overcoming our fears is exactly what experts say is necessary for us to learn and grow.
While there are many things that scare me – bungee jumping is one that springs to mind – I can also say that I've tackled quite a few seemingly perilous activities, as I posted in 2010:
I quit a good job and launched my own business as an independent. Heart-stopping? Oh, yeah. Also one of the best choices I've ever made.
For many years, I attended IABC World Conferences on my own — from flight to room to sessions, all solo. That first time was pretty scary, but you'd have a hard time finding a more warm and welcoming bunch than IABCers. More recently, I attended quite a few conferences with my friend Donna Papacosta, and I can also vouch for the pleasure of the "buddy system"!
I've been ziplining. On a trip with my husband, son #2 and his friend, we talked about going. The guys were all for it, but I was nervous. But I realized the men would all come back raving about how much fun they had, and I would be sorry. So I did it, and not only survived but had a terrific time.
I don't consider myself athletic at all, but I took up skiing in my thirties. From lessons at the little bunny hill near home (vertical drop of 72 metres), I made it to all-star places like Tremblant (650 metres), Lake Louise (991), Panorama (1,220) and Whistler (1,609). From the top. The scariest is that moment standing at the edge of what looks like a cliff, taking a deep breath and pointing the skis down.
I've gone hot-air ballooning quite a few times. The balloons are at the mercy of the wind, so one time we landed on the shoulder of a highway off-ramp.
A friend and I tried para-sailing while on vacation in Mexico. I discovered that you actually don't go as high in the air as it seems from the beach, but it's still pretty scary. And the operators warn you that your camera might get wet.
Same friend; Walt Disney World; Space Mountain. A wild rollercoaster ride in the dark. Say no more!
And of course, I went back to school — well after getting married and raising two sons — to earn the degree I didn't finish when I was in my twenties. I was pretty nervous going into the program, but I did it, and I survived! Yes, I may even have learned a few things, and grew in the process.
What scary things have you done? Did they help you try more new things? What's still on your list to do?
(Scary pumpkin faces from Luigi Diamanti and FreeDigitalPhotos.net.)