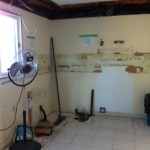 Having a contractor who was a perfectionist made a huge difference to the kitchen renovation that recently wrapped up at my house.
I know, it seems crazy. Aiming for perfection can be a roadblock to ever actually finishing anything. But don't we all want someone doing work for us who won't settle for average?
You've probably heard horror stories of kitchen renos that drag on forever. That wasn't the case with Jason and Creative Kitchens. (I'm going to say "he" here, but his wife Darlene and right-hand man Ivan are key members of the team.)
Having Jason in charge meant a process than ran like clockwork. He set a schedule and met it. He lined up the various specialists needed and kept them to a schedule too. He took the time to do things right rather than just get them done. He worked with people who cared as much about the finished product as he did. Although I'm sure he moved other projects along and spent time quoting on other jobs, he made me feel that he was focusing most of his attention on my kitchen.
There are lessons here for any of us running our own businesses:
1. It's okay to be a perfectionist if it means setting high standards for yourself and delivering your very best for your clients. It's not okay if being a perfectionist means you never really finish anything.
2.  It should go without saying (although apparently not with many kitchen renos), but you have to meet your deadlines. The longer you're in business, the better you'll get at estimating how much time something will take you. In the meantime, if you've committed to delivering on a certain date, do everything you can to meet that date, even if it means working late or on a weekend.
3.  Be realistic about your time, which might mean turning down or putting off a potential client if taking on the work will prevent you from meeting your other commitments. Yes, you can say no! It took months from the day Jason came in to look at our 80's kitchen until he could start, but I appreciated that he wasn't trying to do too much at one time.
4.  Each client should feel that he or she is your priority no matter how many projects you are juggling. (See #3.)
5.  If you partner with other people, make sure they share your high standards. Your client will judge the total product or service, and you don't want to waste time re-doing something to match your perfect piece of the project.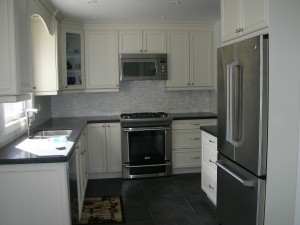 Jason also did a few other smart things that every independent should do:
6.  Especially on large projects, set a payment schedule that gets money up front and at set intervals to maintain your cash flow.
7.  Ask for referrals. If you do such a terrific job that your clients hug you when it's done (I did!), that's a great time to ask.
8.  Keep your work/life balance. Build time off into your schedule and take it. Don't let your job take over your life.
We still have to paint and do a few other little things with our new kitchen (like paint that kitchen table and chairs), but Jason's work is done. And I love it.
Have you been through a kitchen renovation? What was your experience?