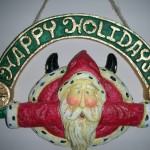 Really? The Friday before Christmas, and you're trying to get work done?  Take just a minute for a laugh.
•  Some people like cat pictures and videos. This one is for the dog lovers. (Are those Corgi reindeer?)
•  Lazy Christmas decorations, or what some people do when they really aren't with the program.
•  How much do you remember about the Seinfeld episodes about Festivus? Take this Mental Floss quiz and find out. Sorry, there's no longer a quiz, but you can instead look up 10 grievance-worthy facts about Festivus. I like Seinfeld but confess to getting a miserable 2 out of 10 correct! (I love that "airing of the grievances"!)
•  'Tis the season for a rafter of turkeys, a hastiness of cooks, a tiding of magpies, a covey of partridges, and all those other terms for a group of something, via Oxford Dictionaries.
Merry Christmas to all, and to all a goodnight!