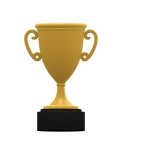 Author Helen Fielding didn't get the prize because her Mad About the Boy wasn't deemed "cringeworthy" enough. The Fifty Shades books didn't qualify either, because the prize doesn't go to porn or erotic literature.
The prize in question is the Literary Review Bad Sex in Fiction award, sometimes called "Britain's most dreaded literary prize." It's given to draw attention to and discourage "the crude, tasteless, and often perfunctory use of redundant passages of sexual description" in "otherwise sound literary novels."
The link above shares some details about this year's winner — Manil Suri, a professor of mathematics at the University of Maryland —  and you'll find the shortlist and some excerpts here. Even more interesting/hilarious is this piece in the Financial Times by one of the judges, the Literary Review's senior editor, Jonathan Beckman. Although he claims the judges do not "frisk the books for an undiscovered masterpiece," there is a definite method to the process of finding appropriate content not sent in by enthusiastic readers, and compiling the short list. Funny stuff.
Far from being a frivolous award, Beckman says:
"(T)he award uses sex writing to show how sentences should be written and paragraphs constructed, what makes them fly and what makes them fail."
A worthy goal.
Related posts:
I first heard about this award in 2010.
Trophy image by David Castillo Dominici and FreeDigitalPhotos.net.