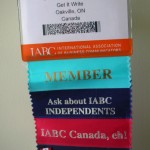 Dear IABC,
You've had a tough year, but some of the decisions you are making baffle me.
Take this latest offer of earlybird pricing ($330 off! Only $1,100!) for next year's World Conference. Why did you make the offer good until the end of November only, and only to the first 100 people who respond? You must be looking for a quick cash infusion, an easy $110,000. After all, the conference will be in Toronto, with many of the 1,700 or so members in that city alone probably eager to take up your offer.
Oh, wait, you are offering a discounted rate of $1,200 if we pay by December 31. Thanks.
It's possible I've attended too many world conferences (you're welcome), but I have counted on you offering one earlybird price about now, and then extending it into January. You didn't do it last year (of all years!) for the first time in a long time, and I guess this is the new reality. Or maybe there is no one left in headquarters who remembers that this used to be a common occurrence. However, a chance to get a discounted rate later than November is important to me because I am a solo practitioner, and I try to keep my expenses for one year within that year. So if I'm attending a conference, I want to pay for it that same year.
Since I pay my own way, I'm also a little more sensitive to value than a corporate member might be. So I find it odd that I can't really tell the value of the upcoming conference. Other than a listing of the session tracks — none of which are directed at independent communicators, despite our apparently growing numbers — there is nothing on the sign-up page to indicate this is a must-attend conference. Maybe you are counting on our past World Conference experiences to lure previous attenders like me back.
Speaking of indies, if you really want to encourage us to attend, when are you going to offer the chance to pay by instalment? Again, a corporate member might not find the price excessive, but it's a big-ticket item for me.
Maybe I will kick myself after November 30 comes and goes and I have not registered. The conference is in Toronto, after all, my home chapter. I won't have to pay airfare. I know many IABC friends, my tribe, will be there.
But I am on the fence. IABC, you still haven't won back my heart. Frankly, you are barely trying.
Sincerely,
Sue